Department of Pulmonology (

522215

)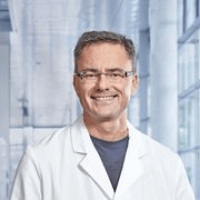 Prof. Dr. med.
Jochen Wöhrle
Specialized in: pulmonology
About the Department of Pulmonology at University Hospital Ulm
The Department of Pneumology at the University Hospital Ulm offers the full range of services in this field and specializes in the diagnostics and treatment of pneumonia, bronchial asthma, chronic obstructive pulmonary disease, pulmonary fibrosis, pulmonary hypertension and obstructive sleep apnea. Of particular interest is lung cancer treatment. The doctors have all the modern achievements of the university medicine for this purpose. The department is headed by Prof. Dr. med. Jochen Wöhrle.
The service range of the department includes:
Diagnostic options

Differential diagnostics of lung diseases (including rare lung pathologies, for example, Langerhans cell histiocytosis, lymphangioleiomyomatosis)
Functional diagnostics

Bronchoscopy
Whole body plethysmography
CO2 diffusion measurement
Determination of functional parameters of external respiration
Inhalation provocation tests
Arterial blood gas analysis
Spiroergometry
Allergy tests

Diagnostics and treatment of lung cancer

Histological examinations
Imaging diagnostics
Drug therapy
Targeted therapy
Immunotherapy
Bronchi recanalization
Respiratory tract stenting
Puncture or drainage imposition in the case of fluid accumulation in the chest (pleurisy)
Participation in clinical trials (if desired)

Diagnostics and treatment of pulmonary hypertension
Diagnostics and treatment of bronchial asthma (including complex forms)

Drug therapy
Inhalation therapy
Antibody therapy (omalizumab, mepolizumab, benalizumab)

Diagnostics and treatment of obstructive pulmonary disease (including complex forms)

Drug therapy
Individual selection of inhalators
Recommendations for smoking cessation, selection of respiratory and physiotherapeutic exercises
Lung volume reduction (with the help of endoscopic techniques)

Diagnostics and treatment of interstitial lung diseases

Imaging examinations
Forceps biopsy
Innovative cryobiopsy
Video-assisted thoracoscopy
Immunosuppressive therapy
Therapy with Nintedanib or Pirfenidone in idiopathic pulmonary fibrosis

Diagnostics and treatment of sleep disorders (within the specialized laboratory)

Polysomnography
Polygraphy
Sleep latency tests

Other medical services
Photo of the doctor: (c) Universitätsklinikum Ulm
Department of Pulmonology.
University Hospital Ulm:

Request more information now.
We will be happy to answer all your questions.
---
Certificates