Department of Neonatology and Pediatric Intensive Care (

535083

)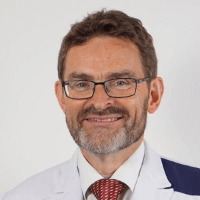 Prof. Dr. med.
Helmut Hummler
Specialized in: neonatology, pediatric intensive care
About the department
The Department of Neonatology and Pediatric Intensive Care at the University Hospital Ulm offers the full range of therapeutic services for newborns with congenital malformations, premature babies and young children with serious diseases. The department is headed by Prof. Dr. med. Helmut Hummler, who has been repeatedly ranked among the top German doctors in neonatology, according to the Focus magazine!
An important focus of the department's work is medical care in premature labor and elimination of its consequences. Thanks to the persistent work of the department's doctors, it became possible to significantly reduce the number of cerebral hemorrhages, which are the common complication in preterm labor. The motivated medical team of the department makes every effort to ensure the highest level of safety and optimal medical care in emergency clinical situations.
The service range of the department includes:
Intensive medical care for children of all age groups with acute life-threatening diseases
All forms of ventilation, including high-frequency ventilation, nitrogen oxide inhalation
Modern methods of renal replacement therapy (hemofiltration)
Systemic cooling methods after resuscitation
Counseling for pregnant women (in collaboration with the Department of Gynecology) in prognosed preterm labor
Special emergency service for newborns
Consultative assistance of specialists from the related fields
Regular follow-up examinations to assess child's development (in collaboration with the Department of Neuropediatrics)
Other diagnostic and therapeutic options
Curriculum vitae
In 1986, Dr. Hummler graduated from the Medical School at the University of Tuebingen, Germany. After one-year residency in Anesthesiology, Internal Medicine and Pediatrics in Germany, from 1992 to 1995, he undertook his training in Neonatology under the guidance of Dr. med. Eduardo Bancalari, Section of Neonatology, Department of Pediatrics, Jackson Memorial Medical Center, University of Miami, Florida, USA. His main research interests were the physiological effects of patient-synchronized mechanical ventilation on the neonate.
In 1995, Dr. Hummler returned to Germany and joined the Department of Neonatology and Pediatric Intensive Care at the University Hospital Ulm, Germany. In 2005, he became the Chief Physician of this Section. In 2002, he became an Assistant Professor of Pediatrics and received his MBA (2006) from the University of Applied Sciences, Neu-Ulm, Germany. In 2006, he became the Professor of Pediatrics, and in 2008 was appointed a Vice Chairman of the Department of Pediatrics, University Hospital Ulm.
His research interests are related to neonatal pulmonology, lung injury, mechanical ventilation, and permissive hypercapnia. More recently his research focused on the effects of hypoxemic episodes on newborns with a very low weight. Such episodes may be detected with the help of pulse oximetry and near infrared spectroscopy (NIRS). Also, he was involved in the development of a mechanical ventilator capable of using automated closed-loop feedback of FiO2 and other ventilator settings to stabilize gas exchange in preterm infants. He received the Scientific Award of the German Society of Neonatology and Pediatric Intensive Care and was awarded as a Top Physician in Neonatology in the years 2013, 2014, 2015, and 2016.
Dr. Hummler has been and is a Member of several national and international scientific committees and foundations and is a Peer Reviewer for many pediatric and neonatal international journals. He is a Fellow of the American Academy of Pediatrics and a Member of the Society of Pediatric Research, Pediatric Academic Societies and the European Society of Pediatric Research. Dr. Hummler served as an Invited Speaker at more than 150 national and international meetings and postgraduate courses and is a Speaker of the IPOKRaTES international organization of postgraduate medical education.
Photo of the doctor: (c) Universitätsklinikum Ulm
Department of Neonatology and Pediatric Intensive Care.
University Hospital Ulm:

Request more information now.
We will be happy to answer all your questions.
---
Certificates