Department of Neuropediatrics (

535086

)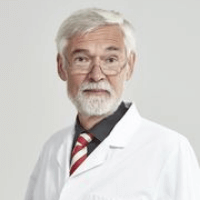 Prof. Dr. med.
Harald Bode
Specialized in: neuropediatrics
About the Department of Neuropediatrics at University Hospital Ulm
The Department of Neuropediatrics at the University Hospital Ulm offers the interdisciplinary diagnostics, monitoring and therapy for children and adolescents with developmental disorders, chronic neurological diseases, congenital and acquired disabilities. Medical care is provided to children of all age groups, ranging from newborns to adolescents under the age of 18 years. Importance is also given to parents counselling, explaining all aspects of disease and treatment strategies. The department is headed by Prof. Dr. med. Harald Bode.
A highly qualified team consisting of pediatric neurologists, psychologists, social teachers, ergotherapists, speech therapists, physiotherapists, and specially trained nurses works with the young patients. The treatment process begins with a thorough study of a medical history, comprehensive medical examination aimed at determining the current state of the child's/adolescent's development. Such an examination covers structured check-ups, monitoring, game forms for testing motor skills, speech, emotional and social development, perception and processing of the received information, concentration and child's behavior. In addition, the doctors perform special physical and neurological examinations to determine child's visual and auditory abilities. With appropriate indications, laboratory tests (blood count and urine analysis), an electroencephalogram are also carried out, and the specialists from related fields are involved, for example, orthopedists, otolaryngologists, ophthalmologists, radiologists, and others. After studying all the obtained results, an optimal treatment concept is developed.
The department specializes in the diagnostics and treatment of the following neurological disorders:
Regulation disorders in infancy and childhood (for example, excessive crying, sleep and eating disorders)
Neurological problems and developmental disorders (for example, affecting motility, speech, child's perception)
Infantile cerebral palsy and other motor disorders
Developmental disorder due to the preterm labor or serious complications in infancy
Complex developmental disorders (for example, autism spectrum disorders)
Multiple physical, mental and psychic disorders
Concentration disorders (for example, attention deficit and hyperactivity disorder)
Cognitive disorders (for example, inability to read, write, count correctly)
Impaired communication skills (for example, selective mutism)
Behavior disorders
Problems of social and emotional development
Epilepsy
Neuromuscular diseases (for example, muscular dystrophy)
Neurodermal syndromes (for example, neurofibromatosis, tuberous sclerosis)
Inflammatory diseases of the nervous system (for example, multiple sclerosis)
Cerebral vascular diseases (for example, stroke)
Malformations of the central nervous system (for example, spina bifida, hydrocephalus, brain malformations)
Mental problems in children living in families with a complex psychosocial environment
Genetic neurological diseases (Down syndrome, Rett syndrome)
Fetal alcohol syndrome
Other diseases of the neurological spectrum
The therapeutic options of the department include:
Psychological help
Ergotherapy

Sensory integration therapy
Concentration training according to the Marburg method
Ergotherapy training program in attention deficit and hyperactivity disorder
Ergotherapy program aimed at learning social skills (in groups)
Autogenic training (for example, in headaches, hypertone, ticks)
Castillo Morales method (orofacial therapy)
Graphomotor and psychomotor training programs
Therapy for children with autism and parents counseling (for example, TEACCH approach)

Speech therapy (treatment of speech disorders)
Physiotherapy

Bobath therapy
Vojta therapy
Neuromotor developmental therapy according to Castillo Morales
Respiratory therapy (including the reflex one)
Galileo method
Rehabilitation
Counseling and training for parents in childcare
Consultation on botulinum toxin therapy, neuro-orthopedics and spinal pathologies

Other medical services
Curriculum vitae of Prof. Dr. med. Harald Bode
Prof. Harald Bode studied Human Medicine at the Hannover and Heidelberg Universities, after which he received the title of Medical Specialist in Pediatrics. After work in the hospitals of London, Freiburg and Basel, the doctor hold the position of Professor in the Department of Neuropediatrics at the University Hospital Ulm (1994). Since 1997 to 2000, Dr. Bode was the Vice President of the German Society of Social Pediatrics and Adolescent Medicine, and in 2001 he was appointed as the President of this society. In addition, the doctor is a member of various professional societies, commissions and scientific councils, as well as the author of many original works, book chapters and messages.
Main Interests
Causes and treatment of developmental disorders.
Diagnostics of neurological syndromes.
Epilepsy.
Attention deficit and hyperactivity disorder.
Genetically caused neurological diseases.
Photo of the doctor: (c) Universitätsklinikum Ulm
Department of Neuropediatrics.
University Hospital Ulm:

Request more information now.
We will be happy to answer all your questions.
---
Certificates