Department of Pediatric Nephrology (

535089

)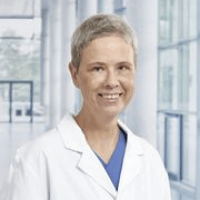 Dr. med.
Ortraud Beringer
Specialized in: pediatric nephrology
About the Department of Pediatric Nephrology at University Hospital Ulm
The Department of Pediatric Nephrology at the University Hospital Ulm offers the full range of services in the diagnostics and treatment of kidney diseases of any severity in children. Also, the department specializes in the treatment of children with the congenital diseases of the urinary tract and bladder dysfunction. To this end, there is maintained close cooperation with the specialists in pediatric radiology, nuclear medicine, pediatric surgery and urology. The Chief Physician of the department is Dr. med. Ortraud Beringer.
All the modern forms of dialysis (peritoneal dialysis, hemodialysis) and plasmapheresis are available in the department for children suffering from acute kidney failure. In addition, there are excellent diagnostic options, for example, the doctors perform kidney biopsy in children, scintigraphy, magnetic resonance imaging of the kidneys. All these diagnostic methods allow the doctors to identify all the possible pathological changes in the kidney structure as quickly and safely as possible for a child.
The specialists of the department mostly have to deal with the diagnostics and treatment of the following nephrological diseases:
Nephrotic syndrome
Glomerulopathy
Tubulopathy
Lupus nephritis
Polycystic kidney disease
Kidney hypoplasia
Kidney dysplasia
Urinary tract malformations
Hemolytic-uremic syndrome
Urinary tract infections
Bladder dysfunction
Arterial hypertension due to kidney diseases
Chronic kidney failure

Preparation for kidney transplantation
Postoperative care after kidney transplantation

Other kidney diseases
Photo of the doctor: (c) Universitätsklinikum Ulm
Department of Pediatric Nephrology.
University Hospital Ulm:

Request more information now.
We will be happy to answer all your questions.
---
Certificates