University Hospital Würzburg
Department of Traumatology, Hand Surgery, Plastic and Reconstructive Surgery (

223357

)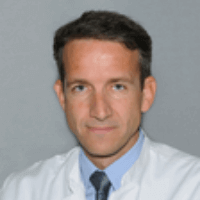 Prof. Dr. med.
Rainer H. Meffert
Specialized in: traumatology, hand surgery, plastic and reconstructive surgery
About the Department of Traumatology, Hand Surgery, Plastic and Reconstructive Surgery at University Hospital Würzburg
The Department of Traumatology, Hand Surgery, Plastic and Reconstructive Surgery at the University Hospital Würzburg covers the whole range of services in these fields. The department specializes in joint replacement, treatment of tumors of the musculoskeletal system, endoscopic treatment methods for spinal injuries, arthroscopic treatment of joints, etc. The department is also a recognized Center for Sports Orthopedics. The Chief Physician of the department is Prof. Dr. med. Rainer H. Meffert.
The service range in the field of traumatology and reconstructive surgery includes:
Treatment of patients with polytrauma and severe injuries
Treatment of spinal injuries using endoscopic techniques and correction of wrongly fused spinal fractures
Pelvic and acetabular injuries
Tumors of the musculoskeletal system (in particular, bone metastases)
Arthroscopic treatment of joint injuries and lesions (shoulder, knee, elbow and ankle joints)
Joint replacement surgery with an artificial one (endoprosthetics)
Sports injuries of muscles, tendons and ligaments
Correction of limb length discrepancy
Treatment of all types of industrial accidents and their consequences
Treatment of injuries in elderly and seriously ill patients
And other types of injuries and malformations
The department provides treatment for all types of injuries, diseases and malformations of the hand. To provide the diagnostics and treatment, the doctors use modern minimally invasive methods, for example, small joint endoscopy. Various methods of reconstruction and improvement of hand mobility are also regularly used, for example, tendon transplantation and plastic ligament reconstruction.
The department's plastic surgeons specialize in breast reconstruction in women after surgical treatment of cancer, reconstructive microsurgery after injuries, aesthetic operations, as well as body lift operations in the treatment of pathological overweight.
The diagnostic and therapeutic service range of the department includes:
Traumatology and reconstructive surgery

Severely injured patients and polytrauma
Joint replacement surgery
Pelvic and acetabular pathology
Shoulder and elbow pathology
Knee pathology
Foot pathology
Developmental defects

Hand surgery

Reimplantation in amputated hands and fingers
Correction of congenital hand malformations
Surgery in rheumatic hand injuries
Reconstructive surgery: rehabilitation procedures in tissue loss and impaired functionality after accidents and surgical removal of tumors

Sports traumatology

Injuries of the knee, shoulder and ankle joints
Injuries and degenerative changes in the pelvis, thighs and spine
Employment injuries and their consequences
Correction of malformations
Correction of leg length discrepancy after accidents
Impaired bone and wound healing

Plastic and aesthetic surgery

Operations on the breast: reduction, tightening, augmentation, correction
Facial interventions: facelift, forehead lift, eyelid surgery, rhinoplasty, lip correction, patient's own adipose tissue therapy, wrinkle treatment with botulinum toxin and durable biomaterials, hyaluronic acid and collagen injections, dermabrasion, laser treatment
Correction of auricles
Body procedures: abdominal correction (abdominoplasty), Lockwood body lift technique (strengthening of the abdomen, hips, back and buttocks), tightening of the abdomen, buttocks, thighs, legs and arms, adipose tissue suction
Postoperative treatment

Diagnostics and treatment of other diseases
Photo of the doctor: (c) Universitätsklinikum Würzburg
Department of Traumatology, Hand Surgery, Plastic and Reconstructive Surgery.
University Hospital Würzburg:

Request more information now.
We will be happy to answer all your questions.
---
Certificates