University Hospital Würzburg
Department of Nuclear Medicine (

298849

)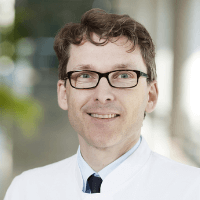 Prof. Dr. med.
Andreas Buck
Specialized in: nuclear medicine
About the Department of Nuclear Medicine at University Hospital Würzburg
The Department of Nuclear Medicine at the University Hospital Würzburg offers all modern diagnostic and therapeutic procedures using radioactive substances. In addition to the classical methods of nuclear diagnostics, for example, thyroid scintigraphy, special attention is paid to the functional and molecular imaging using the state-of-art PET-CT and SPECT-CT techniques. The department is headed by Prof. Dr. med. Andreas Buck.
A special feature of the department is also the Section of Radiochemistry, which produces its own radiopharmaceutical medicines for the targeted therapy of oncopathology (including prostate cancer, neuroendocrine tumors or lymphomas), diseases of the cardiovascular system, and neurological disorders.
The department is engaged in active research activities, which allowed to introduce into clinical practice many innovations, for example, PSMA therapy with radiotherapy pharmaceutical medication Lutetium-177 for prostate cancer treatment, DOTATOC therapy with radiopharmaceutical medication Lutetium-177 for the treatment of neuroendocrine tumors. In addition, as a part of clinical trials, the department offers the treatment of adrenal carcinoma with Iodometidate-131 or the treatment of multiple myeloma and other malignant neoplasms with the help of the CXCR4 Chemokine Receptor-Ligand associated with Lutetium-177.
The diagnostic and therapeutic service range of the department covers the following options:
Pain therapy

Pain therapy in bone metastases
Radiosynoviorthese (RSO) in inflammatory joint diseases

Radioiodine therapy in cancer and other thyroid diseases
Cancer therapy

Peptide receptor radionuclide therapy using Lu-177/Y-90-Dotatate
Lu-177 PSMA therapy
Lu-177/Y-90-CXCR4 therapy

Thyroid diagnostics (within the specialized outpatient clinic)

Ultrasound examinations
Scintigraphy
SPECT-CT
PET CT
Laboratory tests

Combined PET-CT technique
Scintigraphy
SPECT-CT diagnostics
Treatment within the clinical trials
Other medical services
Photo of the doctor: (c) Universitätsklinikum Würzburg
Department of Nuclear Medicine.
University Hospital Würzburg:

Request more information now.
We will be happy to answer all your questions.
---
Certificates