Transsphenoidal resection of pituitary adenoma (program ID:

227045

)
University Hospital Würzburg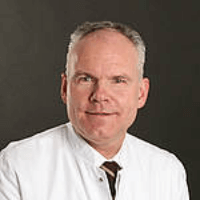 Head Physician
Prof. Dr. med.
Ralf-Ingo Ernestus
Specialized in: adult and pediatric neurosurgery
Department of Adult and Pediatric Neurosurgery
Program includes:
Initial presentation in the clinic
clinical history taking
review of medical records
physical examination
laboratory tests:

complete blood count
general urine analysis
biochemical analysis of blood
inflammation indicators (CRP, ESR)
indicators blood coagulation

neurological examination
CT/MRI scan
preoperative care
transsphenoidal tumor resection
histologically and immunohistochemically
examination of the remote tissues
blood transfusions (if needed)
1-day intensive care unit stay
postoperative MRI control
symptomatic treatment
control examinations
the cost of essential medicines and materials
nursing services
full hospital accommodation
developing of further guidance
Required documents
Medical records
MRI/CT scan (if available)
Service
Price:
Type of program :
Expected duration of the program:
You may also book

Price:
About the department
The Department of Adult and Pediatric Neurosurgery at the University Hospital Würzburg offers the diagnostics and treatment of the entire spectrum of neurosurgical diseases. The department specializes in the treatment of brain tumors, vascular diseases and intracerebral hemorrhages, spinal diseases, deep brain stimulation, etc. Special competence lies in the field of pediatric neurosurgery. The department offers the very latest highly accurate and minimally invasive treatment methods. The department is headed by Prof. Dr. med. Ralf-Ingo Ernestus.
One of the main activities of the department is the surgical treatment of brain tumors. With the help of the very latest methods, it treats the whole spectrum of brain tumors, as well as tumors of the meninges, pituitary, brain metastases, CNS lymphomas or tumors of the cranial nerves (for example, an acoustic neuroma). In the treatment of brain neoplasms, there is maintained active cooperation with the Departments of Neuroradiology, Radiation Therapy, Neurology, Oncology, Nuclear Medicine, etc.
The department performs microsurgical interventions to treat the vessels of the brain and spinal cord. When performing these interventions, the doctors use various imaging methods that promote the best possible accuracy and safety for patients. For example, intraoperative vascular imaging is performed using fluorescein angiography. 3D-angiography methods, such as the innovative O-arm angiography system, provide accurate three-dimensional images with minimal radiation exposure.
The department ranks among the leading Pediatric Neurosurgery Centers in Germany. The offered service spectrum includes the treatment of all neurosurgical diseases, tumors, malformations, injuries in children and adolescents of all age groups. The department specializes in the treatment of CNS tumors, skull pathologies (various types of craniostenosis), as well as spine and spinal cord malformations (spina bifida). Other focuses are on the correction of impaired circulation of the cerebrospinal fluid (hydrocephalus), treatment of traumatic brain injuries and vagus nerve stimulation (VNS therapy) in epilepsy. In addition, the department has an exceptional experience in the treatment of very rare diseases.
The diagnostic and therapeutic spectrum of the department includes the following options:
Brain tumors

Gliomas (primary brain tumors)
Meningiomas
Acoustic neuroma or vestibular schwannoma
Pituitary tumors
Brain metastases

Spinal tumors

Primary spinal tumors
Spinal meninges tumors
Nerve sheath tumors
Tumors of the spinal bone structures

Vascular diseases and intracerebral hemorrhages

Aneurysms
Vascular malformations (angiomas and atrioventricular fistulas)
Intracerebral hemorrhages

Spinal diseases

Degenerative diseases of the cervical, thoracic and lumbar spine (herniated intervertebral discs, spinal stenosis, vertebral displacement, vertebral body fracture, etc.)
Vascular diseases (arteriovenous malformations / angiomas, atrioventricular fistulas, etc.)
Spinal tumors (spinal cord tumors, meningiomas, neuromas, metastases)
Infectious diseases (spondylodiscitis, osteomyelitis, intraspinal abscesses)
Spinal injuries
Chronic spinal pain

Enlargement of the brain ventricles (hydrocephalus)
Peripheral nerves

Nerve ending injuries
Impingement syndromes

Deep brain stimulation in movement disorders
Pediatric neurosurgery

CNS tumors
Skull pathologies (various types of craniostenosis)
Spine and spinal cord malformations (spina bifida)
Impaired cerebrospinal fluid circulation (hydrocephalus)
Treatment of traumatic brain injuries
Vagus nerve stimulation (VNS therapy) in epilepsy

Diagnostics and treatment of other neurosurgical diseases, malformations and injuries in adults and children
Photo of the doctor: (c) Universitätsklinikum Würzburg
---
About hospital
Accommodation in hospital
Pituitary adenoma
Program [Description]
Transsphenoidal resection of pituitary adenoma
Hospital: University Hospital Würzburg
Type:
Duration:
Price:
date_range
There are 65 pituitary adenoma treatment hospitals on Booking Health website
Show all clinics
Certificates