Treatment of hemangiomas of the brain by microsurgical resection and embolization coils (coiling) (program ID:

557736

)
University Hospital Würzburg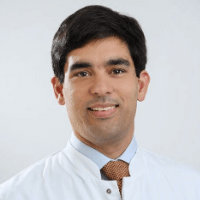 Head Physician
Prof. Dr. med.
Mirko Pham
Specialized in: adult and pediatric diagnostic, interventional neuroradiology
Department of Adult and Pediatric Diagnostic, Interventional Neuroradiology
Program includes:
Initial presentation in the clinic
clinical history taking
review of medical records
physical examination
laboratory tests:

complete blood count
general urine analysis
biochemical analysis of blood
inflammation indicators (CRP, ESR)
indicators blood coagulation

neurological examination
functionality x-ray
CT/MRI scan
neuropsychological tests (on indications):

ENMG (electroneuromyography)
EEG (electroencephalography)
SEPs (somatosensory evoked potentials)
VEPs (visually evoked potentials)
BAEP tests (brainstem auditory evoked potential)

preoperative care
partial resection of hemangioma with
subsequent coiling
histologically examination of the remote tissues
blood transfusions (if needed)
1-day intensive care unit stay
postoperative MRI control
symptomatic treatment
control examinations
the cost of essential medicines and materials
nursing services
full hospital accommodation
developing of further guidance
Required documents
Medical records
MRI/CT scan (if available)
MR/CT-angiography (if available)
Service
Price:
Type of program :
Expected duration of the program:
You may also book

Price:
About the department
The Department of Adult and Pediatric Diagnostic, Interventional Neuroradiology at the University Hospital Würzburg offers the full range of radiological studies and modern minimally invasive catheter procedures for the treatment of vascular diseases of the brain, head and neck, spine. The highly qualified team of doctors of the department specializes in the treatment of strokes, aneurysms, vascular malformations and atherosclerosis. In addition, the department is equipped with high-tech systems the special diagnostics of the central and peripheral nervous system. The department operates a national Expert Center for Radiological Diagnostics of Brain Tumors in Children. The department is headed by Prof. Dr. med. Mirko Pham.
All diagnostic and therapeutic procedures are provided in accordance with the strict guidelines of the professional societies. In the course of treatment, there is maintained close cooperation with the specialists from related disciplines, for example, neurosurgeons, neurologists, otolaryngologists, ophthalmologists, and specialists in oral and maxillofacial surgery. The diagnostics and treatment of malformations of the central nervous system in children is also based on an interdisciplinary approach.
The service range of the department includes:
Minimally invasive treatment of vascular malformations of the brain, head and neck, upper limb, spine and spinal cord

Emergency medical care for stroke
Stroke prevention (prevention of atherosclerosis)
Cerebrovascular aneurysms
Arteriovenous malformations of the brain and spinal cord
Vascular malformations in the face, head, neck and body
Vascular fistulas and arteriovenous dural fistulas
Vascular tumors of the head and neck (for example, meningiomas, paragangliomas, juvenile nasopharyngeal angiofibromas)
Catheter procedures to arrest bleeding in the face, head and neck
Minimally invasive interventions on the brain veins for diagnostic and therapeutic purposes

Minimally invasive pain therapy

Treatment of neuropathic pain in spinal nerve lesion
Treatment of headaches (decrease of the cerebrospinal fluid volume)

Specialized neuroradiological diagnostics

Magnetic resonance imaging (MRI)
Computed tomography (CT)
Radiography
Angiography (digital subtraction angiography)

Diagnostics and treatment of diseases and malformations of the central nervous system in children (in collaboration with the Departments of Pediatric Radiology, Pediatric Neurosurgery, Pediatrics)
Other medical services
Curriculum vitae
University Education
1998 - 2005 Medical School at the University of Tuebingen, Germany (summa cum laude).
2001 - 2002 Internship at the University Hospital Guadalajara, Mexico.
Scientific Degrees
2013 Habilitation and Venia Legendi in Radiology, Heidelberg University, Germany.
2005 Doctoral dissertation: "Modulation of slow-cortical potentials by feedback of auditory stimuli" (Supervisor: Prof. Dr. N. Birbaumer), Institute for Medical Psychology and Behavioural Neurobiology, University of Tuebingen, Germany.
Professional Experience
2008 - 2015 Postdoctoral Fellow and Group Leader MR Neurography at the Department of Neuroradiology (Prof. Dr. M. Bendszus), University of Heidelberg, Germany.
2012 Attending Physician in the Department of Diagnostic and Interventional Neuroradiology.
2012 Board Certification in Neuroradiology.
2011 Board Certification in Diagnostic Radiology.
2005 - 2007 Postdoctoral Fellow with Prof. Dr. L. Solymosi, Department of Neuroradiology, University of Würzburg, Germany.
Awards and Honors
2014 Wilhelm Conrad Röntgen Prize of the German Radiology Society.
2012 Senior Award of the European Society of Neuroradiology (Lucien Appel Award).
2012 Coolidge Award for Research in Diagnostic MR Imaging.
2010 Senior Award of the German Society of Neuroradiology (Kurt Decker Award).
2007 Best Selected Paper in Clinical Neuroradiology.
2006 Junior Award of the German Society of Neuroradiology (Marc Dünzl Award).
Memberships in Professional Societies
German Society of Radiology.
German Society of Neuroradiology.
European Society of Neuroradiology.
Photo of the doctor: (c) Universitätsklinikum Würzburg
---
About hospital
Accommodation in hospital
Brain hemangioma
Program [Description]
Treatment of hemangiomas of the brain by microsurgical resection and embolization coils (coiling)
Hospital: University Hospital Würzburg
Type:
Duration:
Price:
date_range
There are 29 brain hemangioma treatment hospitals on Booking Health website
Show all clinics
Certificates