University Orthopedic Hospital Hannover-Annastift MHH
Department of Spinal Surgery and Conservative Orthopedics (

414314

)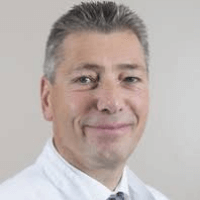 PD Dr. med.
Frank Gossé
Specialized in: spinal surgery, conservative orthopedics
About the department
The Department of Spinal Surgery and Conservative Orthopedics at the University Orthopedic Hospital Hannover-Annastift MHH offers the full range of conservative and surgical treatment of all spinal diseases. The experienced doctors of the department have in their arsenal many effective therapeutic techniques that help patients get rid of pain, restore mobility, and thereby improve the quality of life. The department is headed by PD Dr. med. Frank Gossé – an outstanding surgeon, who has managed to save many patients' lives.
Initially, the physicians of the department try to apply all possible conservative treatments, for example, drug therapy, physiotherapy, mud wrapping, massages, electrotherapy. If conservative methods exhaust themselves and do not give positive results, doctors resort to surgical treatment. Since the department is keeping pace with modern technologies, many surgical interventions are performed with the use of sparing minimally invasive techniques that help to significantly reduce the period of postoperative recovery, to avoid strong pain sensations.
The department's range of medical services includes:
Spinal surgery
Operative treatment of intervertebral disc diseases
Treatment of spinal stenosis
Balloon kyphoplasty to treat osteoporosis
Minimally invasive decompression procedures
Prosthetic intervertebral disc replacement
Corrective procedures for the treatment of vertebral dislocation
Installation of dynamic implants
Scoliosis and kyphosis correction
Cervical spine surgery
Facet joint infiltration (periradicular therapy)
Treatment of spinal fractures
Manual therapy
Osteopathic therapy
Bone mineral density test
Other conservative and surgical methods
Photo of the doctor: (c) DIAKOVERE Annastift
Department of Spinal Surgery and Conservative Orthopedics.
University Orthopedic Hospital Hannover-Annastift MHH:

Request more information now.
We will be happy to answer all your questions.
---