Vitos Orthopedic Clinic Kassel
Department of Adult and Pediatric Spinal Surgery (

594438

)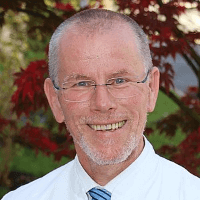 Dr. med.
Rafael Sambale
Specialized in: adult and pediatric spinal surgery
About the Department of Adult and Pediatric Spinal Surgery at Vitos Orthopedic Clinic Kassel
The Department of Adult and Pediatric Spinal Surgery at the Vitos Orthopedic Clinic Kassel offers the full range of modern diagnostics, conservative and surgical treatment of spinal diseases in patients of all age groups. The competent specialists of the department provide top-class treatment of all diseases of the cervical, thoracic and lumbosacral spine: degeneration of the vertebrae and spinal instability, spinal canal stenosis, vertebral fractures, deformities and tumors. The treatment tactics are developed for each patient individually. If possible, the doctors are trying to solve the problem using conservative techniques. If surgical treatment is required, preference is given to sparing minimally invasive techniques.
The Chief Physician of the department is Dr. med. Rafael Sambale. He performed more than 10,000 operations, while all of them had a successful outcome with a minimum percentage of complications. According to the Focus magazine, Dr. Sambale ranks among the top German doctors specializing in the treatment of spinal diseases!
Spinal diseases are often associated with severe pain. First of all, the department's doctors use the most effective conservative methods, including drug therapy, physiotherapy, ergotherapy, as well as interventional pain procedures (X-ray- or CT-guided targeted administration of drugs to the affected area). Such aids as a corset, belt or bandage can sometimes help as well. They are developed and manufactured in the department according to the patient's measurements and functional requirements.
The department's specialists also have rich experience in the treatment of chronic back pains. The patients with pain syndrome suffer not only physically, but also psychologically. Pain rules their life. In such cases, the doctors carry out multimodal pain therapy, while the patients are examined and treated interdisciplinary. The treatment tactics are developed with the participation of specialists in the field of pain therapy, anesthetists, psychotherapists, physiotherapists and care specialists.
The spectrum is complemented by the surgical treatment of spinal diseases. The department's surgeons have a perfect command of minimally invasive techniques, which are often used in intervertebral disc surgery and stabilization interventions. The department also carries out extensive interventions aimed at the restoration of spinal mobility, for example, intervertebral disc replacement and dynamic stabilization. Rigid spinal stabilization is also included in the scope of tasks of the department's doctors and is recommended in such diseases as vertebral fractures, spondylolisthesis, tumors and inflammatory lesions.
In addition, the department carries out safe interventions for posture correction, for example, in kyphosis and scoliosis, as well as destructive processes (inflammation, tumors or deformities after vertebral fractures). Another focus of the department includes revision interventions after unsuccessful operations on the spine. Such operations are a complex task, which requires the experienced operating surgeon, careful planning and preparation, up to the manufacture of special implants.
For safety reasons, not all spinal operations can be performed through posterior access. The interventions with access through the neck, thorax or anterior abdominal wall are also widely used in clinical practice. Also, front access is used for vertebral removal and replacement.
The department's therapeutic range of services includes:
Conservative treatment

Drug treatment
Physiotherapy
Ergotherapy
X-ray- and CT-guided injection-based pain therapy
Multimodal pain therapy
Nerve root infiltration (administration of anti-inflammatory and analgesic medications)
Therapy using auxiliary means (corsets, belts, bandages), also in children

Surgical treatment

Sparing and microsurgical interventions
Intervertebral disc replacement
Stabilizing spinal interventions
Surgical decompression in spinal stenosis
Spinal fusion
Operations to correct spinal deformities (including correction of scoliosis and kyphosis in children)
Treatment of vertebral fractures
Treatment of spinal tumors
Repeated spinal interventions in the case of ineffective previous treatment

Other medical services
Curriculum vitae of Dr. med. Rafael Sambale
Dr. med. Rafael Sambale studied Human Medicine at the Universities of Mainz and Marburg. This was followed by the work of Assistant Physician in the clinics of Marburg, Melsungen, Bad Wildungen and Minden-Westfalen. From 1995 to 2000, he worked at the Werner Wicker Clinic Bad Wildungen, and also held the position of Lead Senior Physician at the Auguste-Victoria Hospital Bad Oeynhausen (focus on spinal surgery). In July 2000, he held the position of Chief Physician in the Department of Spinal Surgery at the Orthopedic Clinic Hessisch-Lichtenau. Since November 1, 2015, he has been heading the Department of Adult and Pediatric Spinal Surgery at the Vitos Orthopedic Clinic Kassel.
According to the Focus magazine, Dr. Sambale has been ranked among the top specialist in spinal surgery for many years. He also has the certificate of the Master of the Commission for Continuing Education of the German Society for Spine Surgery (DWG). This company is the largest specialized society for the treatment of spinal diseases in Europe.
Additional Qualifications
Chiropractic.
Physiotherapy.
Special pain therapy.
Emergency medical care.
Theoretical basis of the specialty in radiation protection.
Computed tomography in adults and children.
Admission to Carry Out the Advanced Training Courses
Orthopedics and traumatology.
Special pain therapy.
Memberships in Professional Societies
German Trauma Society.
German Society for Orthopedics and Trauma.
German Speaking Medical Society for Paraplegia.
German Society for Spinal Surgery.
Professional Association of Orthopedists and Traumatologists.
Association of Leading Senior Physicians at German Hospitals.
Photo of the doctor: (c) Vitos Orthopädische Klinik Kassel
Department of Adult and Pediatric Spinal Surgery.
Vitos Orthopedic Clinic Kassel:

Request more information now.
We will be happy to answer all your questions.
---
Certificates