Vivantes Am Urban Hospital Berlin
Department of Gastroenterology, Gastrointestinal Oncology and Infectology (

332605

)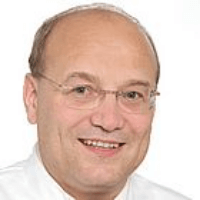 Prof. Dr. med.
Hans Scherübl
Specialized in: gastroenterology, gastrointestinal oncology, infectology
About the Department of Gastroenterology, Gastrointestinal Oncology and Infectology at Vivantes Am Urban Hospital Berlin
The Department of Gastroenterology, Gastrointestinal Oncology and Infectology at the Vivantes Am Urban Hospital offers high-quality medical care in the treatment of all digestive tract diseases, infectious and metabolic diseases. The main direction of the department is treatment of gastrointestinal tract tumors. The head of the department Prof. Dr. med. Hans Scherübl.
Particular attention is paid to the diagnosis and treatment of tumors of the digestive organs and their glands, for example, the pancreas. In addition, the department specialized in treatment of infectious diseases of various organs.
Other important areas of the department include treatment of metabolic diseases, especially in patients with diabetes, treatment of metabolic liver diseases and obesity (type 2 diabetes).
Achievement of optimal treatment results is ensured by the outstanding education of doctors working in the department, the best technical equipment, effective methods of treatment and access to advanced achievements in the field of medicine. For example, the department has at its disposal modern high-resolution video endoscopes and equipment for capsule endoscopy. Using a capsule with a mini camera, the specialists of the department have the opportunity to conduct a comprehensive study of the small intestine of about 4 m in size.
Doctors of the department help patients with type 2 diabetes mellitus lose weight using the EndoBarrier method.
In addition to first-class medical care, doctors are always trying to create the most pleasant atmosphere for patients` stay in the department. By using modern diagnostic procedures and complying with high medical standards, the specialists have everything to choose the optimal individual treatment method.
The range of medical services of the department covers:
Weight loss
Stomach pain
Constipation or diarrhea
Fever
Bleeding in the gastrointestinal tract)
Nausea, vomiting, swallowing disorders
Cholelithiasis
Liver diseases, such as fatty liver, liver cirrhosis or hepatitis (inflammation of the liver)
Pancreatic diseases such as pancreatitis or pancreatic tumors
Anemia (erythrocyte deficiency)
Diverticular disease (protrusion of the intestinal mucosa)
Diseases of the esophagus (eg, difficulty swallowing, heartburn)
Stomach or duodenum diseases (ulcers, inflammation)
The initial stages of colon cancer, for example, polyps, the so-called adenomas
Inflammation of the intestine (eg, ulcerative colitis or Crohn's disease)
Metabolic diseases, eg, diabetes mellitus or obesity
Infectious diseases (lungs, intestines, urinary tract, liver, stomach, skin, etc.)
Tumors, for example, of the liver, intestine, stomach or pancreas, with a special focus on treatment of neuroendocrine tumors (carcinoids) that develop from hormone-forming cells, and that sometimes even produce hormones themselves
Food allergies and food intolerance
Curriculum vitae of Prof. Dr. med. Hans Scherübl
1978 - 1986 Study of Medicine, Universities of Regensburg, Freiburg, Heidelberg, Salamanca, Newcastle upon Tyne and Glasgow.
01/1987 Passed exams "General Medicine of Man" for foreign students (USA).
1987 - 1989 Doctorate and residency, Department of Endocrinology at Heidelberg University.
1989 - 1991 Department of Pharmacology, Berlin Free University.
1992 - 2005 Resident physician, later specialist doctor, Department of Gastroenterology, Endoscopy, Infectology and Liver diseases, University Charite Hospital, Berlin.
2006 Worked in the University Charite Hospital, Berlin.
Since 2006 Chief Physician of the Department of Internal Medicine, Gastroenterology, Gastrointestinal Oncology and Infectology at the Vivantes am Urban Hospital, Berlin.
Photo of the doctor: (с) Vivantes - Netzwerk für Gesundheit GmbH
Department of Gastroenterology, Gastrointestinal Oncology and Infectology.
Vivantes Am Urban Hospital Berlin:

Request more information now.
We will be happy to answer all your questions.
---