Vivantes Am Urban Hospital Berlin
Department of Hematology and Oncology (

332606

)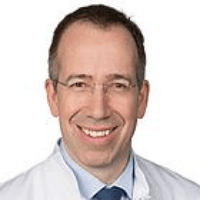 Priv.-Doz. Dr.
Christian Scholz
Specialized in: hematology, oncology
About the Department of Hematology and Oncology at Vivantes Am Urban Hospital Berlin
Clinical areas of the Department of Hematology and Oncology include acute leukemias, lymphomas (lymph node cancer), multiple myeloma, lung cancer, testicular cancer, metastatic breast cancer and malignant gastrointestinal diseases such as stomach cancer and colon cancer. The head of the department is Chief physician: Priv.-Doz. Dr. Christian Scholz.
The range of medical services of the department covers various types of chemotherapy, immunotherapy with antibodies, hormonal therapy, innovative treatment methods which use inhibitors of signaling pathways and inhibitors of the cell cycle. In addition, the department closely cooperates with the Department of Radiological Oncology.
The department conducts constant clinical studies, which enable to conduct treatment of patients based on the latest achievements of medicine in this field.
The spectrum of the department's services is:
Treatment of diseases:
All diseases in the field of internal medicine
Hematology: anemia, leukemia (blood cancer) and lymphoma (cancer of the lymph nodes)
Oncology: cancer of various organs of the body
Blood coagulation
Infectious diseases in hematological and oncological patients
Palliative medicine
Types of therapy:
Chemotherapy
Antibody therapy
Immune therapy
Transfusion
Anesthesia
Palliative therapy
Photo of the doctor: (с) Vivantes - Netzwerk für Gesundheit GmbH
Department of Hematology and Oncology.
Vivantes Am Urban Hospital Berlin:

Request more information now.
We will be happy to answer all your questions.
---