Vivantes Am Urban Hospital Berlin
Department of Urology (

332610

)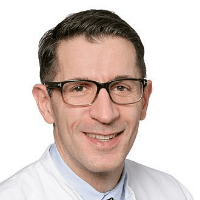 Prof. Dr. med.
Ahmed Magheli
About the Department of Urology at Vivantes Am Urban Hospital Berlin
The Department of Urology at the Vivantes Am Urban Hospital offers prompt and conservative treatment of urological diseases at the highest level. The main goal of all employees of the department is to support the patient, provide him with competent and individual counseling, and develop an optimal treatment strategy. The department has 55 beds at its disposal and annually provides treatment to about 4000 patients in a hospital setting. The head of the department is an urologist Prof. Dr. med.
Ahmed Magheli.
Specialists of the department take into account personal wishes of patients, use the latest methods of treatment and diagnostics, implement the achievements of advanced medical research, because they believe that only a combination of all these aspects contributes to individual and optimal therapy.
Since a large number of patients go to the department with a diagnosis of prostate cancer, it is one of the largest centers for the treatment of prostate cancer in Germany.
The department has a rich and long history. Since 1890, there have been treated patients with urological diseases, but it received the status of an independent Department of Urology at the Vivantes Am Urban Hospital only in 1970 thanks to V. Klutke. Since 1984, the department has undergone modernization and restructuring and has become a standard medical institution that meets the requirements of modern medicine. In 2016, the department was equipped with technology for robotic surgery and modern diagnostic devices for effective diagnosis of prostate cancer. In 2017, a new unit of reconstructive urology and a gender identity disorder was established at the department.
The main directions of treatment are:
Prostate Cancer
Bladder cancer
Tumors of the kidneys, organs of the small pelvis and ureter
Tumors of the adrenal glands
Testicular cancer
Penile cancer Disorder of gender identity
Andrological surgical therapy
Kidney and ureter stones
Benign prostatic hyperplasia
Medicamentous treatment of tumors
Curriculum vitae of Prof. Dr. med. Ahmed Magheli
After studying medicine in Hamburg, Professor, Dr. Magheli began his professional career in the Department of Urology at the University Hospital Bochum. Then the doctor spent two years at Johns Hopkins University in Baltimore, USA, where he was engaged in both clinical and research activities under the guidance of the famous urologist, Professor P. Walsh. Before Professor Magelli took up his position at the Vivantes Am Urban Hospital, he worked as head physician of the robotic surgery unit at the Charité Hospital, where he performed robotic radical prostatectomy and cystectomy.
Since March 2016, the professor is the head physician of the Department of Urology at the Vivantes Am Urban Hospital, and in December 2017 he was also appointed medical director of this clinic.
Photo of the doctor: (с) Vivantes - Netzwerk für Gesundheit GmbH
Department of Urology.
Vivantes Am Urban Hospital Berlin:

Request more information now.
We will be happy to answer all your questions.
---