Vivantes Auguste-Viktoria Hospital Berlin
Department of Gynecology and Obstetrics (

332374

)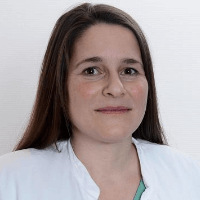 PD Dr. med.
Mandy Mangler
Specialized in: gynecology, obstetrics
About the Department of Gynecology and Obstetrics at Vivantes Auguste-Viktoria Hospital Berlin
The Department of Gynecology and Obstetrics at the Vivantes Auguste-Viktoria Hospital provides treatment of all hypogastric and gynecological conditions, for example, atony of the bladder, cysts and tumors. Modern equipment ensures accurate and professional work. Another direction of the department is midwifery. The Head of the Department is PD Dr. med. Mandy Mangler.
The spectrum of services of the Vivantes Auguste-Viktoria Hospital covers all conservative and surgical treatments of gynecological diseases. One of the priorities of the department is gynecological oncology. The department headed by Dr. Mangler is a partner of the certified Oncology Center of Hematology and Oncology Berlin-Neukölln. In particular, the department specializes in complex, reproductive and organ-preserving treatment methods, benign and malignant tumors removal, minimally invasive and robotic surgeries and also offers patients treatment with the DaVinci robot.
Muscular nodes in the uterus (uterine myomas) and changes in the mucous uterus (endometriosis) are treated as sparingly for the organs as possible. The surgeons of the department use modern minimally invasive methods for this purpose whereby operational robots can be used for maximum accuracy. The work of the department is based of interdisciplinary cooperation with the Departments of Urology and Surgery.
The surgical spectrum of the department is:
Minimally invasive organ-preserving operations (laparoscopy)
Removal of benign nodes (myomas) of the uterus
Ovarian cysts (mainly with preservation of the organ)
Treatment of painful changes in the endometrium (endometriosis)
Ectopic pregnancy termination
Diagnosis of infertility problems
Separation of synechia
Sterilization
Diagnosis of unclear pain syndromes
Restoring fallopian tubes after diseases (eg, inflammation or ectopic pregnancy) or after sterilization
Fixation of the prolapsed vagina
Uterus removal (hysterectomy)
Photo of the doctor: (c) Vivantes - Netzwerk für Gesundheit GmbH
Department of Gynecology and Obstetrics.
Vivantes Auguste-Viktoria Hospital Berlin:

Request more information now.
We will be happy to answer all your questions.
---