Vivantes Auguste-Viktoria Hospital Berlin
Department of Hand Surgery and Plastic Surgery (

332375

)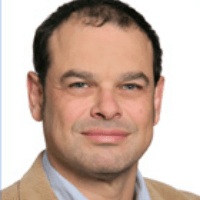 Dr.
Roberto Spierer
Specialized in: hand surgery, plastic surgery
About the department
The Department of Hand Surgery and Plastic Surgery at the Vivantes Auguste-Viktoria Hospital employs the latest diagnostic and surgical possibilities, for example, endoscopic methods, such laser treatment or microsurgical stitching techniques. All diseases and injuries of the hand and wrist joint are treated here, with special attention paid to the pain syndromes of the wrist joint. The head of the department is Dr. Roberto Spierer.
Priorities and services of the department:
Aesthetic Surgery

Lifting surgeries
Facelift and eyelid lifting
Liposuction
Elimination of wrinkles by injections

Soft tissue surgery

Healing of chronic wounds
Bedsores
Lifting surgery for disorders of fat distribution
Correction of scars

Surgery of soft tissues of the face

Restoration of the paralyzed face (paralysis of the facial nerve)
Removal of skin tumors, if necessary using scrappy plastics
Correction of scars

Breast Surgery

Breast enlargement
Breast reduction with minimally traumatic methods
Breast lift with minimally traumatic methods
Breast reconstruction with patient's own tissues
Gynecomastia

Hand Surgery

Primary care for injuries to the hands and wrists, including fracture treatment
Corrective operations
Arthroscopic surgeries on the wrist joint
Chronic pain syndromes of wrist joints
Surgical treatment of arthrosis
Pain syndrome caused by pinching of the nerve (eg, carpal tunnel syndrome)
Paralysis and partial paralysis of the hand (surgery to replace muscles and tendons)
Dupuytren's Disease
Ganglion / removal of bony growths
Malformations of the development of the hands and feet in children
Photo of the doctor: (c) Vivantes - Netzwerk für Gesundheit GmbH
Department of Hand Surgery and Plastic Surgery.
Vivantes Auguste-Viktoria Hospital Berlin:

Request more information now.
We will be happy to answer all your questions.
---