Vivantes Auguste-Viktoria Hospital Berlin
Department of Cardiology, Diabetology and Conservative Intensive Medicine (

332377

)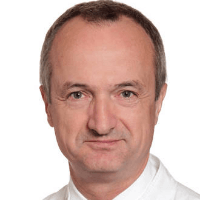 Prof. Dr.
Helmut Schuhlen
Specialized in: cardiology, diabetology, conservative intensive medicine
About the department
Specialists of the Department of Cardiology, Diabetology and Conservative Intensive Medicine at the Vivantes Auguste-Viktoria Hospital provide treatment for the whole range of pathologies of the cardiovascular system. Thanks to the close proximity to the intensive care block of the clinic, the department is best prepared for urgent situation. Diabetes is another direction of the department. As the department was certified for treating diabetes by the German Diabetes Society (DDG), it provides comprehensive care for patients with metabolic disorders. The head of the department is Prof. Dr. Helmut Schuhlen.
According to the rating of the FOCUS magazine, the Department of Cardiology, Diabetology and Conservative Intensive Medicine was includes into the list of the best national clinics in Germany for the treatment of diabetes in 2018!
The department treats the entire range of diseases of internal organs. Special attention is paid to studying and treating diseases of the cardiovascular system, for example, coronary artery disease, cardiac rhythm anomalies, heart defects and hypertension.
Being one of the centers for the treatment of diabetes types 1 and 2, which was certified by the German Diabetes Society, the department offers complex inpatient treatment. Based on long-standing traditions, the specialists of the department apply the latest concepts of treatment metabolic imbalances, concomitant diseases and complications. The medical team headed by Professor Shulen is proud that the department has been certified by a Diabetes Society for more than 10 years.
Directions of the department are:
Laboratory of catheterization
Laboratory of blood circulation
Coronary angiography (access through the arm (radial artery) or inguinal region)
Coronary interventions (PCI), including special techniques for treating complex diseases
24-hour readiness for urgent research and surgery for acute coronary syndrome and infarction
Shunting systems to protect peripheral embolization
Intravascular ultrasound
Intracoronary pressure measurement for determining the reserve of coronary blood flow
Intraaortic counterpulsation for treating shock
Myocardial biopsy
Puncture of the pericardium
Transcoronary, medicamentous septum with hypertrophic obstructive cardiomyopathy
Minimally invasive catheter replacement of the aortic valve with a beating heart (TAVI, in cooperation with the German Cardiology Center Berlin)
Catheter closure of the auricle to prevent stroke in patients with atrial fibrillation who need an alternative option to anticoagulation
Photo of the doctor: (c) Vivantes - Netzwerk für Gesundheit GmbH
Department of Cardiology, Diabetology and Conservative Intensive Medicine.
Vivantes Auguste-Viktoria Hospital Berlin:

Request more information now.
We will be happy to answer all your questions.
---