Vivantes Auguste-Viktoria Hospital Berlin
Department of Neurology with intensive therapy unit for acute cerebral circulation disorders (

332378

)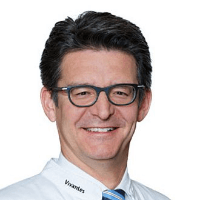 Prof. Dr.
Bruno-Marcel Mackert
Specialized in: neurology
About the department
The Department of Neurology at the Vivantes Auguste-Viktoria Hospital treats the whole spectrum of acute and chronic neurological diseases. Here are treated patients with multiple sclerosis, epilepsy, spine and discs problems, diseases of the peripheral nervous system, in particular polyneuropathy or myasthenia gravis whereby the transmission of nerve impulses to muscles is disrupted. A special area of the department is treatment of patients with stroke in a special stroke block. The head of the department is Prof. Dr. Bruno-Marcel Mackert.
The special intensive therapy unit for patients with acute disorders of cerebral circulation, certified by the German Society for the Treatment of Stroke (DSG), offers 8 monitoring locations. Thus, it is one of the largest centers of this kind in Berlin. A medical team of doctors with specialization in Neurology, Cardiology, Vascular Surgery and Radiology, as well as specially trained nursing staff in physiotherapy, ergotherapy, speech therapy take care of patients' health and provide the whole range of medical care - from emergency therapy and early rehabilitation to social adaptation services.
Directions of the department are:
Stroke
Multiple sclerosis
Diseases of the spine and intervertebral discs
Polyneuropathies and diseases of nerve roots
Myasthenia gravis
Epilepsy
Parkinson's disease
Dementive conditions
Headache
Oncological diseases
Photo of the doctor: (c) Vivantes - Netzwerk für Gesundheit GmbH
Department of Neurology with intensive therapy unit for acute cerebral circulation disorders.
Vivantes Auguste-Viktoria Hospital Berlin:

Request more information now.
We will be happy to answer all your questions.
---