Vivantes Auguste-Viktoria Hospital Berlin
Department of Radiology and Interventional Therapy (

332380

)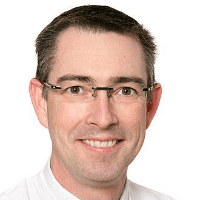 Priv.-Doz. Dr. med.
Andreas Koops
Specialized in: radiology, interventional therapy
About the department
Using modern diagnostic and therapeutic methods(digital X-ray, mammography, ultrasound, CT/MRI and angiography), the Department of Radiology provides visualization diagnostics and treatment. In particular, it treats diseases of blood vessels, liver - in particular tumors - and pain syndromes. Visualization allows gentle minimally invasive placement of the catheter and other instruments. The department unites two clinics - the Vivantes Auguste-Viktoria Hospital and the Wenckebach Hospital. Both hospitals cooperate with other specializations. The head of the department is Priv.-Doz. Dr. med. Andreas Koops.
One of the directions of the Department of Radiology and Interventional Therapy is treatment of liver tumors. Various methods are used to fight the tumor or prevent its growth. These include destruction of cancer tissues with high temperature (thermal ablation), radio frequencies (RFA), or microwaves (microwave ablation); treatment with medications that are injected into the blood vessels next to the tumor (transarterial chemoembolization of TACE); treatment with radioactive materials that are injected into the tumor (selective internal radiotherapy - SIRT, as well as transarterial radioembolization - TARE).
In addition, specialists of the department treat malignant tumors by outpatient, maximally sparing implantation of port systems in the shoulder area. In particular, chemotherapy can be received through this system. The Department of Radiology and Interventional Therapy at the Vivantes Auguste-Viktoria Hospital is the only center within Berlin where port systems in the shoulder area are installed quickly and without long waiting period under local anesthesia.
The range of services includes:
Diagnostics

Projectional radiography
X-ray examinations
Breast diagnostics
Ultrasound
Multilayer computed tomography
MRI
Angiography (digital subtraction angiography)/ catheter studies

Interventional therapy

Treatment of stenosis and occlusion of arterial vessels
Treatment of aneurysms (endovascular correction of the aortic aneurysm, EVAR)
Treatment of occlusions of venous vessels
Implantation and installation ///
Treatment of varicocele of the testicular vein
Treatment of uterine myomas
Treatment of prostatic hyperplasia
Treatment of bleeding with embolization
Specialized interventional oncological therapy (intervention oncology)
Specialized interventional hepatology
therapy
Specialized interventional nephrology therapy
Specialized interventional analgesic therapy
Photo of the doctor: (c) Vivantes - Netzwerk für Gesundheit GmbH
Department of Radiology and Interventional Therapy.
Vivantes Auguste-Viktoria Hospital Berlin:

Request more information now.
We will be happy to answer all your questions.
---