Vivantes Auguste-Viktoria Hospital Berlin
Department of Special Orthopedic Surgery and Traumatology (

332386

)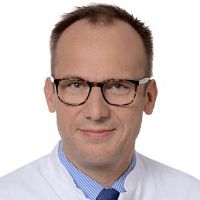 Dr. med.
Heiko Spank
Specialized in: special orthopedic surgery, traumatology
About the Department of Special Orthopedic Surgery and Traumatology at Vivantes Auguste-Viktoria Hospital Berlin
The Department of Special Orthopedic Surgery and Traumatology at the Vivantes Auguste-Viktoria Hospital provides treatment of all diseases and injuries of the musculoskeletal system for patients of any age. It uses both operational and non-operative methods of treatment. Areas of specialization are endoprosthetics, joint-preserving surgery, sports orthopedics, hand and foot surgery, shoulder surgery, and traumatology. The head of the department is Dr. med. Heiko Spank.
With more than 20 years of experience, the highest qualification in the field of joint replacement and a very high number of clinical cases, the Department of Special Orthopedic Surgery was the first hospital in Berlin and Brandenburg in 2014 to receive the highest level of guarantee certificate - the "Maximum Prosthesis Endoprosthetics Center" for replacement of the hip and knee joints.
The spectrum of the department's services is:
Hip replacement with minimally invasive techniques
Arthroscopy of the hip joint, including partial replacement and minimally invasive treatment methods
Surgeries to replace prostheses
Periprosthetic infections (infections of adjacent tissues)
Replacement of the shoulder joint
Elbow joint replacement
Ankle replacement
Joint-restorative interventions: restoration of cartilaginous tissues, cartilage transplantation, osteotomy shifting, elongating / shortening osteotomy, acetabulum plastic (for the treatment of hip dysplasia, acetabular developmental defects), as well as osteotomy of the acetabulum
Surgeries on the foot and metatarsus: correction of congenital foot deformities, correcting osteotomy of metatarsal bones
Surgery of the shoulder joint: arthroscopic and open methods to treat damages of the rotator cuff (muscle damage surrounding the shoulder joint), instability, as well as imputation syndrome (the crisis between the cuff of the shoulder rotators and the acromial process of the clavicle)
Purulent surgery: one-and two-sided surgeries for infected vascular prosthesis and infection-related "blisters" of prostheses, treatment of chronic and acute infections of soft tissues
Oncological surgery: a biopsy of malignant and possible malignant tumors of soft tissues and bones, as well as removal of benign tumors of connective tissue and bones and concomitant removal of bone metastases
Fractures and pseudoarthrosis: operative stabilization of fractures of all skeleton parts by various methods of osteosynthesis: screws, plates, intraosseous nails or external fixatives
Ultrasound of the hip joints of newborns
Treatment of flat feet with Ponseti method
Photo of the doctor: (c) Vivantes - Netzwerk für Gesundheit GmbH
Department of Special Orthopedic Surgery and Traumatology.
Vivantes Auguste-Viktoria Hospital Berlin:

Request more information now.
We will be happy to answer all your questions.
---