Vivantes Auguste-Viktoria Hospital Berlin
Department of Spinal Surgery (

332388

)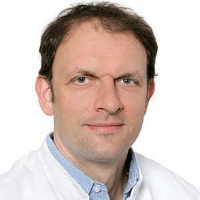 PD Dr. med.
Mario Cabraja
Specialized in: spinal surgery
About the department
The Department of Spinal Surgery at the Vivantes Auguste-Victoria Hospital all diseases of the spine - both conservatively and operatively. Patients with herniated intervertebral discs, displacement of vertebrae, stenosis of the spinal canal or back pain are treated here. In addition, specialists of the department have a unique experience in the field of complex reconstructive and revision surgeries, which are conducted to continue or correct the previous surgical treatment. The head of the department is PD Dr. med. Mario Cabraja.
The Department of Spinal Surgery is the first Berlin-Brandenburg hospital to receive the certificate of the Spinal Society from the Society for Spine Surgery (DWG), which is protected on the territory of the EU. Until August 2017 in Germany, this acclaimed certificate was received by less than 20 clinics, which indicates the high qualification of patients` treatment with spinal problems. The main principle of the department is to conduct surgical intervention only in necessary cases and with minimal strain on the patient's health.
Another field of treatment are tumors. To ensure the best treatment for cancer patients, treatment programs are coordinated during interdisciplinary oncological consultations with all participating medical colleagues. Another direction of the department are infectious diseases.
The spectrum of the department's services is:
Operative and non-operative methods of treating cervical, thoracic and lumbar spine problems
Microscopic operations on intervertebral discs
Microscopic extension of the spinal canal with neurolisis (surgical removal of adhesions in the nerve area)
Treatment of degenerative spine diseases, congenital displacements of the vertebrae and inflammatory or neoplastic disorders (posterior and anterior lumbar interbody spondylodesis)
Prosthesis of intervertebral discs of cervical and lumbar spine
Non-operative treatment of spinal diseases
Curriculum vitae
Hospital experience:
2002 - 2008 Internship in Neurosurgery, Charité.
2009 Senior Physician of the Department of Neurosurgery "Charite".
2011 Head of the Spinal Surgery Section "Charite".
2013 Head of the Department of Spinal Surgery at the Vivantes Auguste-Victoria Hospital.
Academic experience:
2004 PhD in Medical Sciences, Institute of Physiology "Charite", Berlin-Dahlem.
2013 Associate Professor with the specialization "Neurosurgery", "Charite".
Awards and Internships
2010 Scholarship of the European Association of Neurosurgical Communities.
2010 Internship under the guidance of Professor Papavero, Hamburg.
2011 Internship under the guidance of Professor Le Heck, Bordeaux.
2011 Internship under the guidance of Professor Roussoli, Lyon.
Memberships
German Society of Neurosurgery (DGNC).
German Society for Treatment of Spine Diseases (DWG).
Society Eurospine.
Society AO Spine.
The editorial board of the Journals "European Spine Journal" and "BMC musculoskeletal disorders".
Photo of the doctor: (c) Vivantes - Netzwerk für Gesundheit GmbH
Department of Spinal Surgery.
Vivantes Auguste-Viktoria Hospital Berlin:

Request more information now.
We will be happy to answer all your questions.
---