Vivantes Humboldt Hospital Berlin
Department of Endocrine Surgery (

332616

)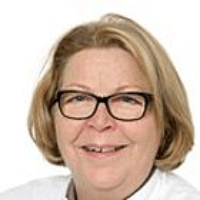 Dr. med.
Hannelore Heidemann
Specialized in: endocrine surgery
About the Department of Endocrine Surgery at Vivantes Humboldt Hospital Berlin
The Department of Endocrine Surgery at the Vivantes Humboldt Hospital focuses on diseases of the thyroid, parathyroid and adrenal glands. Highly developed operational methods, exceptional experience of conducting more than 8000 interventions and neuromonitoring guarantee optimal and sparing treatment. The head of the department is Dr. med.
Hannelore Heidemann.
In most cases, the surgeries are performed through a small incision of the skin in the neck by using devices for blood vessel and tissue coagulation("seamless surgery"). Each surgical intervention is performed with the help of a binocular loupe, as well as a system for protecting the nerves of the vocal cords (neuromonitoring). In the presence of small nodes or parathyroid adenomas, surgeries are performed in a minimally invasive way with video-assisted administration. For interventions on the parathyroid glands intraoperative determination of parathyroid hormone is used.
Spectrum of surgical treatment includes:
All benign and malignant diseases of the thyroid gland

Basedow's disease
Autoimmune thyroiditis
Struma in the elderly
Children surgeries
Repeated interventions (secondary and multiple interventions)
Interventions in the so-called "diving goiter" (displacement in the chest)

Diseases of parathyroid glands with benign and malignant neoplasms

Primary hyperparathyroidism
Secondary hyperparathyroidism in dialysis patients
Parathyroid gland diseases in complex endocrine disorders (multiple endocrine neoplasia)

Diseases of the adrenal glands
Curriculum vitae of Dr. med. Hannelore Heidemann
1981 Medical qualification at Charité University Hospital Berlin, Germany.
1989 Specialist in Surgery
1981 - 2005 Consultant, Hospital Berlin Lichtenberg, Germany
2006 - 2008 Head of the Centre for Endocrine Surgery, Martin-Luther-Hospital Berlin, Germany
2008 - 2014 Head of Department Endocrine Surgery, Meoclinic, Berlin, Germany
Since 2014 Director of the Centre for Endocrine Surgery, Vivantes Humboldt Hospital, Berlin, Germany.
Photo of the doctor: (c) Vivantes Netzwerk für Gesundheit GmbH
Department of Endocrine Surgery.
Vivantes Humboldt Hospital Berlin:

Request more information now.
We will be happy to answer all your questions.
---