Vivantes Humboldt Hospital Berlin
Department of Gynecology and Obstetrics (

333729

)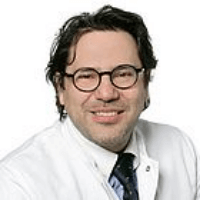 Dr. med.
Zaher Halwani
Specialized in: gynecology, obstetrics
About the Department of Gynecology and Obstetrics at Vivantes Humboldt Hospital Berlin
The Department of Gynecology and Obstetrics at the Vivantes Humboldt Hospital treats all benign and malignant gynecological diseases and also offers services in the field of obstetrics. All the efforts of the medical team are directed at the individual needs of the patient. In addition to providing competent and professional medical care, the department's specialists show sympathy for their patients and support them throughout the treatment period. The department offers modern medical equipment that meets the latest internationally recognized standards. The head of the department is Dr. med. Zaher Halwani.
The department is equipped with a robotic-assisted surgical system
Da Vinci, through which minimally invasive interventions are conducted with a high degree of accuracy. This system is used even for extensive surgical interventions.
The department has an Endometriosis Center, certified as the Center for the Treatment of Gynecologic Oncological Diseases. Here, doctors specialize in minimally invasive and robotic operations. The center works for the benefit of patients and it also shares its experience and knowledge with specialists of other clinics, introducing medical practice that meets the latest internationally recognized standards and recommendations.
Many small surgeries can be performed at the outpatient department. Thus, the patient has the opportunity to quickly go home, where her relatives will take care of her. For example, outpatient interventions include surgery after miscarriage, laser treatment of cervical disease, as well as treatment of bleeding and genital warts.
The most important direction of the department is obstetrics. Thanks to modern medical equipment, the department has all the possibilities for optimal medical care for the baby and mother in both natural childbirth and high-risk pregnancy.
The department conducts all necessary research methods and comprehensive individual consultations on all issues of interest regarding pregnancy. In addition, the specialists of the department conduct consultations for women who are planning a pregnancy. They also provides in-depth consultation for women with high-risk pregnancies, eg, with gestational diabetes, hypertension, pregnancy with twins, fetal prolapse in the pelvis.
The department employs a competent team of doctors, midwives and nurses who have many years of experience in obstetrics and know how to conduct natural, maximally painless and safe births. There is a variety of ways to relieve pain during childbirth. The Department of Obstetrics offers alternative methods, eg homeopathy, acupuncture, aromatherapy, etc. It goes without saying that anesthetists use classical painkillers or nitrous oxide. In addition, it is possible to receive epidural anesthesia.
The range of medical services of the Department of Gynecology and Obstetrics covers:
Prevention, diagnosis, treatment and follow-up care of Gynecological Oncology
Diseases of the endometrium (endometriosis)
Benign tumors of the muscular tissue of the uterus (fibromas)
Pathological changes in the ovaries and fallopian tubes
Breast and lower abdominal cancers
Bleeding
Unfulfilled desire to have a child
Prenatal care
Childbirth
Postpartum care
Curriculum vitae of Dr. med. Zaher Halwani
Since 2016 Director, Department of Gynecology and Obstetrics, Vivantes Humboldt Hospital.
2015 Director, Department of Gynecology, Red Cross Hospitals, Berlin Westend.
2011 - 2014 Fellowship Gynecological Oncology German Red Cross Hospital, Berlin Westend.
2006 - 2010 Department of Gynecology, Vivantes Urban Hospital and Vivantes Friedrichshain Hospital.
2004 - 2006 Department of Gynecology, German Red Cross Hospital Saarbrücken.
1994 - 2000 Faculty of Medicine, University of Damascus, Syria.
Memberships
Director German Endometriosis Center.
German Society of Gynecology and Obstetrics.
North-eastern German Society of Gynecologic Oncology (NOGGO).
AGE (Society of Gynecological Laparoscopy).
AG-CPC (Society of Cervical Pathology).
European Endometriosis League (EEL).
Photo of the doctor: (c) Vivantes Netzwerk für Gesundheit GmbH
Department of Gynecology and Obstetrics.
Vivantes Humboldt Hospital Berlin:

Request more information now.
We will be happy to answer all your questions.
---