Vivantes Humboldt Hospital Berlin
Department of Gastroenterology, Hepatology and Diabetology (

333731

)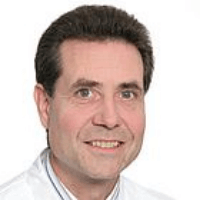 Priv.-Doz. Dr.
Ralf-Marco Liehr
Specialized in: gastroenterology, hepatology, diabetology
About the department
The Department of Gastroenterology, Hepatology and Diabetology at the Vivantes Humboldt Hospital covers a wide range of diseases of the gastrointestinal tract, liver, gallbladder and ducts, pancreas, cancer, as well as infections. Other priority areas of the department are the treatment of metabolic diseases, diabetes mellitus, the treatment of obesity and nutritional medicine. The department has 51 beds. More than 3,000 patients are treated annually. The head of the department is Priv.-Doz. Dr. Ralf-Marco Liehr.
The department has a Central Unit of Endoscopy, which annually carries out more than 4000 studies in outpatient and inpatient settings.
The medical team includes internal medicine doctors with additional specialization in the field of gastroenterology and diabetology. They provide medical care of the highest professional level. Also the department employs highly competent nurses with specialization in the field of endoscopy and qualified service personnel.
The Department of Gastroenterology, Hepatology and Diabetology offers the following diagnostic and therapeutic services:
Endosonography of the gastrointestinal tract (esophagus, mediastinum, stomach, pancreas, rectum) with puncture (diagnosis of lymph nodes of the mediastinum and abdominal cavity, drainage of the cysts of the gastrointestinal tract), longitudinal and transverse scanning
Reflux disease and violation of motility of the gastrointestinal tract (daily pH-metry, 12-channel manometry, measurement of bile reflux, determination of indications for antireflux surgery)
Full range of diagnostic and interventional endoscopy
Gastroscopy, colonoscopy with polypectomy and mucosectomy. Hemostasis (ligation of the esophagus, coagulation of argon plasma, clipping, endoplasty), ERCP with lithotripsy and removal of stones, treatment of stenosis with drainage and self-expanding metal stents, proctoscopy and treatment of hemorrhoids
Transcutaneous transhepatic cholangiography with installation of drainage
CEG / CHEE, pneumatic dilatation and bougie (esophagus), as well as hydraulic dilations (stomach, colon)
Functional diagnostics (all studies of exhaled air (H2), helicobacter pylori diagnostics)
Mini gastroscopy (nasal gastroscopy)
Digital ultrasound with color Doppler sonography of the abdominal, thyroid and peripheral vessels. Ultrasound controlled punctures
Curriculum vitae
1978 – 1984 Medical Studies at the Free University of Berlin
1988 – 1990 Postgraduate education in Internal Medicine, Infectiology, Oncology and Gastroenterology in Berlin and at the VA Medical Centre Kansas City, University of Kansas, USA
1995 Habilitation treatise and Venia legendi at the Medical Faculty, Charité Berlin
Since 1998, Head, Department of Gastroenterology, Hepatology, and Diabetology at Vivantes Humboldt Hospital, Berlin
Director of Medical Board Gastroenterology at Vivantes GmbH
Focuses
Certified Tumor Center North, in cooperation with Vivantes Hospital Spandau (Tumor Conference), Outpatient Center
More than 4000 endoscopies per year
Partner in the Competence Center for Liver Surgery and Endocrine Surgery
Emergency endoscopy (24-hour call)
Diabetes Training Center, diabetes, settings (ICT, pump), counseling, weekly training classes
Colorectal and gastrointestinal cancer screening
Liver disease (hepatitis, cirrhosis, liver tumors)
Pancreatic disease (pancreatitis, cancer)
Spectrum
Digital ultrasound (Sono-CT) with color-coded Doppler-Sonography of abdominal organs, thyroid and peripheral vessels
Endocrine diagnostics (diabetes, thyroid, adrenopathy, neuroendocrine system)
Diagnosis
Diagnostic and interventional endoscopy
Endoscopic ultrasound
Longitudinal and transversal scanner with puncture gastroscopy, colonoscopy with polypectomy and mucosectomy
Hemostasis (argon plasma coagulation clipping, Endoloop)
Ultrathin-endoscopy (e.g. nasal gastroscopy)
Reflux disease and gastrointestinal motility measurements
Therapy
ERCP with stone extraction and lithotripsy, therapy with plastic and self-expandable metal stents
Percutaneous transhepatic cholangiography (PTC) and complex drainage (Munichdrainage)
Photo of the doctor: (c) Vivantes Netzwerk für Gesundheit GmbH
Department of Gastroenterology, Hepatology and Diabetology.
Vivantes Humboldt Hospital Berlin:

Request more information now.
We will be happy to answer all your questions.
---