Vivantes Humboldt Hospital Berlin
Department of Oncology and Hematology (

333734

)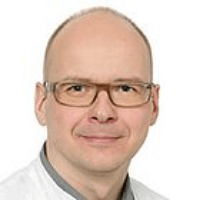 Dr. med.
Veit Mansmann
Specialized in: oncology, hematology
About the Department of Oncology and Hematology at Vivantes Humboldt Hospital Berlin
The Department of Oncology and Hematology at the Vivantes Humboldt Hospital provides complex treatment and care for oncological diseases and cancerous blood diseases (hematology). It offers a full range of services in the field of these two areas. The treatment is conducted in outpatient and inpatient settings. The head of the department is Dr. med. Veit Mansmann.
The focus is on the needs of the patients. Doctors-oncologists use modern therapeutic methods which have been helping them achieve good results over the past 15 years.
Thanks to modern medical equipment, the department uses innovative and proven methods of treatment. In cooperation with other clinics, stem cell transplantation is also carried out here.
The department is a certified Oncology Center (certificate of the German Society of Hematology and Oncology).
The Department of Oncology and Hematology works closely with all relevant departments of the Vivantes Hospital Network, for example, the Stem Cell Transplant Center, the Department of Radiation Therapy, Surgery and Palliative Medicine, and with centers specializing in certain oncological diseases, such as breast cancer and lung cancer.
To achieve new results in the field of diagnosis and treatment of tumors, the specialists of the department take part in scientific research (together with specialists from other clinics).
The range of medical services of the department covers:
Radiation therapy
Oncological surgery
Chemotherapy
Radiochemotherapy
Immunotherapy
Drug treatment of oncological diseases
Blood transfusions
Infusion therapy
Antihormonal therapy (hormonal therapy or endocrine therapy)
Palliative treatment
Punctures (in fluid accumulation or ascites)
Follow-up care
General blood test (laboratory tests)
Ultrasound (sonography)
Radiological examination (eg X-ray or computed tomography)
Tumor markers (these are proteins, peptides or other substances in the blood, the increased concentration of which may indicate a relapse of the tumor)
Additional offers
Consultations on nutrition
Psycho-oncological care
Palliative Care
Photo of the doctor: (c) Vivantes Netzwerk für Gesundheit GmbH
Department of Oncology and Hematology.
Vivantes Humboldt Hospital Berlin:

Request more information now.
We will be happy to answer all your questions.
---