Vivantes Humboldt Hospital Berlin
Department of Coloproctology (

333735

)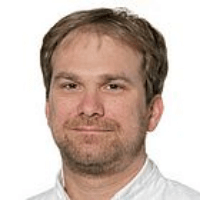 Dr. med.
Skander Bouassida
Specialized in: coloproctology
About the Department of Coloproctology at Vivantes Humboldt Hospital Berlin
The Department of Coloproctology at the Vivantes Humboldt Hospital specializes in diagnosis and treatment of the colon and rectum diseases. The diseases treated here include colon cancer, rectal cancer, anal cancer, as well as hemorrhoids, anal fistulas, anal abscesses, stool incontinence, pelvic prolapse, inflammation of the intestine such as diverticulitis and Crohn's disease. By using advanced technology, specialists are able to provide excellent results of treatment. The head of the department is Dr. med. Skander Bouassida.
The department has at its disposal state-of-the-art medical equipment. Advanced visualization systems allow doctors to conduct differential diagnosis. Laser surgery and modern surgical devices are installed in the operating rooms, for example, the robotic assisted surgical system DaVinci. This system operates by using a 3-D video camera and is currently considered the most advanced technology in the field of minimally invasive surgery. For surgical intervention doctors use minimally invasive operations, which are more sparing for patients and do not require large incisions.
The Department of Coloproctology has a team of specialists who provide special medical care in accordance with the individual needs of the patients. Here patients can use the services of a personal contact officer who will accompany the patient from the diagnosis, pre-surgical preparation to the subsequent treatment. Modern treatment concepts are aimed not only at surgical aspects, but also take into account pain fighting therapy and psychological and social support.
In addition, the employees of the department are active in scientific research in the field of intestinal health. The department is a member of a number of professional societies and working groups.
The department offers diagnostics and treatment of such diseases:
Hemorrhoids
Abscesses
Anal thrombosis
Anal fistulas
Anal fissures
Eczema of the anus
Bowel disorders
Fecal incontinence
Inflammatory bowel disease (eg, diverticulitis, Crohn's disease, ulcerative colitis)
Oncological diseases of the colon and rectum
Anal Cancer
Visualization diagnostics:
Dynamic magnetic resonance imaging of pelvic floor organs (MR-defecography)
3D endosonography
Endoscopic examinations
Painless electromyography for measuring muscle tension
MRI of the rectum
Hinton's study of an X-ray study of intestinal motility
Curriculum vitae of Dr. med. Skander Bouassida
1975 Was born in Bonn.
1993 Higher education, Baccalauréat de l'Académie de Paris-Versailles - Série D, natural sciences.
2001 Admission to medical practice, Federal Medical Chamber of Dresden.
2001 Physician-resident, Obstetrics, Larabta, Tunisia.
2003 Resident doctor, General Surgery, Tunisia.
2008 Specialization in the field of General Surgery, the Medical Chamber of Westphalia-Lippe.
2009 Additional specialization in Proctology, Medical Chamber of Westphalia-Lippe.
2010 Defense of doctoral thesis, Chamber of Medicine Westphalia-Lippe.
2011 Head Physician of the Department of Coloproctology, Berlin, the first certification and the position of Deputy Director of the Center for Treatment of Incontinence and Pelvic Floor Diseases.
2012 Created a working group for the treatment of anal cancer, Berlin, specialist in abdominal surgery, Berlin Medical Chamber.
2013 Certification in the direction of Laser Surgery, Berlin.
2014 Researcher, European Council for Surgery, specialization in Coloproctology, Munich, admission to professional development, Proctology.
2016 Obtaining a certificate that allows to conduct consultations in the field of human genetics.
2017 A certificate that allows to conduct surgeries using the DaVinci robot.
Membership in professional societies
German Society of General and Abdominal Surgery (DGAV).
Surgical Task Force on Coloproctology (CACP).
German Society of Surgeons (BDC).
Berlin-Brandenburg Society of Surgeons (BCG).
German Society of Coloproctology (DGK).
Professional Association of Coloproctologists of Germany (BCD).
German Society of Incontinence(DKG).
Self-help group for patients with stoma and cancer (ILCO e.V.).
Self-help group for patients suffering from incontinence.
Photo of the doctor: (c) Vivantes Netzwerk für Gesundheit GmbH
Department of Coloproctology.
Vivantes Humboldt Hospital Berlin:

Request more information now.
We will be happy to answer all your questions.
---