Vivantes Humboldt Hospital Berlin
Department of the Spine Surgery (

333740

)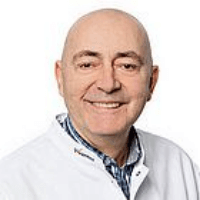 PD Dr. med.
Hans-Josef Erli
Specialized in: back medicine, spinal surgery
About the Department of the Spine Surgery at Vivantes Humboldt Hospital Berlin
The Department of the Back Treatment and Spinal Surgery at the Vivantes Humboldt Hospital offers treatment for all diseases of the spine and intervertebral discs. The specialists of the department provide interdisciplinary operative, interventional and conservative high-quality treatment of all clinical pictures of the spine, intervertebral discs and nerves.
The department is headed by two head physicians: Dr. Hans-Josef Erli (orthopedic physician, traumatologist with extensive experience in spinal surgery) has been the head physician of the department for a long time. The other head of the department is Professor, Dr. Wojciechowski (neurosurgeon), who has extensive experience in the treatment of spinal diseases.
The department treats chronic back pain, conducts targeted pain therapy with the help of infiltration under the control of CT (eg, PRT), endoscopic surgery for herniated intervertebral discs, implantation of intervertebral disc prostheses, navigation osteosynthesis with the Alby-Delbe system, surgical treatment of spine traumas and tumors of the spine, spinal cord, cerebral membranes of the spinal cord and nerves. In addition, the range of services of the department is complemented by neuromodulation for the treatment of all types of neuropathic pain, peripheral circulatory disorders and angina pectoris.
The department provides treatment for such clinical pictures:
Vertebral fractures
Vertebral fractures in osteoporosis
Tumors of the spine
Herniated discs
Osteochondrosis
Wear of small vertebral joints
Congenital and acquired deformities of the spine
Displacement of vertebrae
Rare deformations
The main directions of treatment:
Conservative treatment
Inpatient treatment of chronic back pain
Interventional treatment
Targeted analgesic therapy with infiltration under the control of CT (eg, ORT)
Surgery
Endoscopic interventions for the treatment of herniated intervertebral discs (nucleotomy, sequestrectomy)
Implantation of cervical and lumbar disc prosthesis
Navigation surgery to stabilize all parts of the spine
Surgical treatment of spine injuries
Surgery to remove spinal tumors, spinal cord tumors, cerebral membranes of the spinal cord and nerves
Neuromodulation for the treatment of neuropathic pain (implantation of neuro stimulants)
Curriculum vitae of PD Dr. med. Hans-Josef Erli
1978 Studies Medical Sciences, University of Technology Aachen, Germany.
1985 Surgical and accident surgical education.
1993 Senior Physician, Accident Surgical Department of the University Aachen.
2005 Director of Trauma Surgical Department at the University Aachen (RWTH), Germany.
Since 2005 Specialists Registration by the General Medical Council/UK.
2008 Head Physician, Luisenhospital Aachen, Germany.
Since 2010 Director of the Department for Trauma Surgery and Orthopaedics, Vivantes Humboldt Hospital, Berlin, Germany.
Photo of the doctor: (c) Vivantes Netzwerk für Gesundheit GmbH
Department of the Spine Surgery.
Vivantes Humboldt Hospital Berlin:

Request more information now.
We will be happy to answer all your questions.
---