Vivantes Humboldt Hospital Berlin
Department of Shoulder Surgery (

333741

)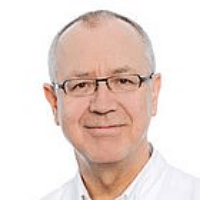 Dr. med.
Bernd Dreithaler
Specialized in: shoulder surgery
About the Department of Shoulder Surgery at Vivantes Humboldt Hospital Berlin
The Department of Shoulder Surgery at the Vivantes Humboldt Hospital treats shoulder injuries and diseases. The offered treatment services correspond to the requirements of specialized and highly developed joint surgery. Proven operating methods combined with the extensive experience of specialists ensure successful treatment of the entire range of shoulder pathologies with a short time of inpatient treatment. Annually, more than 600 shoulder operations are performed here and more than 2500 patients receive medical care.
High satisfaction of the patients of the Department of Shoulder Surgery is based on many years of hospital experience, innovative, interdisciplinary, comprehensive approaches to treatment and international cooperation, especially with English and Australian colleagues. In the field of conservative treatment, a special role is given to cooperation with specialized physiotherapists, thanks to which coordinated methods and treatment success are provided.
The main directions of the department:
Operative therapy

Arthroscopic and open interventions on the rotator cuff
Arthroscopic and open treatment of acromioclavicular articulation
Arthroscopic removal and expansion of the synovial bag
Removing deposits of calcium
Arthrolysis with humeroscapular periarthritis
Early treatment of cartilage damage
Prosthetics of the shoulder joint, as well as revision procedures for complex operations to replace the shoulder endoprosthesis
Modern methods of osteosynthesis

Conservative methods of treatment in cooperation with the outpatient center of MVZ shoulder diseases Vivantes Pankov

Physiotherapy
Hyaluronic acid therapy
Autohemotherapy and treatment with autologous conditioned plasma
Manual therapy
Conventional teips / kinesio teips
Acupuncture
Curriculum vitae of Dr. med. Bernd Dreithaler
1975 – 1982 Medical Studies, Ruprecht-Karls-University Heidelberg, Free University Berlin
1982 Surgical Education at the Free University Berlin: Heart Surgery (Prof. E. Bücherl), General Surgery (Prof. Neuhaus, Transplantation Unit), Trauma-Surgery, microscopic Hand Surgery (PD Dr. Schauwecker)
2007 Consultant for Upper extremity pathologies – MVZ Pankow, Berlin
2007 Senior Physician (Hand-Surgery, Sports-Medicine, Arthroscopic Surgery), Department of Traumatology and Orthopedics, German Red Cross Clinic Westend Berlin
2007 Senior Physician, Department of Traumatology and Orthopedics / Hand Surgery, Free University Berlin
Since 2015, Head, Department of Shoulder and Elbow Surgery, Sports Medicine, Vivantes Humboldt Hospital, Berlin
Memberships
Federation of German Surgeons (BDC)
German Association for Shoulder and Elbow Surgery (DVSE)
German Society of Orthopedics and Traumatology (DGOU), German Society of Trauma Surgery (DGU)
Berlin Society of Trauma Surgery
Berlin Society of Sports Medicine
Society of Joint Surgery and Arthroscopy (AGA), AGA Instructor
Other Activities
Member of the Specialist-Board for Shoulder Surgery, Focus Magazin und Ärzteliste Berliner Kurier (2010 – 2107)
Center of Excellence – Arthroscopic and open Shoulder Surgery – Fa. Smith&Nephew / Fa. Zimmer-Biomet
Research: AC-Joint-Hookplate Implementation and Development presented at Expo 2000 in Hannover
Lecturer and Instructor for international Shoulder Surgeries (Spain, Turkey, Cyprus)
Photo of the doctor: (c) Vivantes Netzwerk für Gesundheit GmbH
Department of Shoulder Surgery.
Vivantes Humboldt Hospital Berlin:

Request more information now.
We will be happy to answer all your questions.
---