Vivantes Humboldt Hospital Berlin
Department of Urology (

333743

)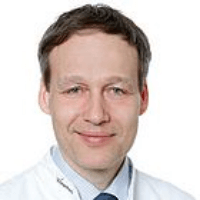 Prof. Dr.
Steffen Weikert
About the department
The Department of Urology at the Vivantes Humboldt Hospital offers the whole range of urological diagnostics and treatment. It specializes in surgical and conservative treatment of urological oncological diseases, urolithiasis and benign prostatic hyperplasia as well as urinary incontinence. Doctors of the department have an exceptional experience in open surgery, as well as minimally invasive and endoscopic surgical methods. The head of the department is Prof. Dr. Steffen Weikert.
The department is the center of robotic assisted surgery that uses DaVinci robot. Thanks to modern diagnostic and therapeutic methods, the most gentle and individual treatment is offered here. When conducting surgeries, minimally invasive methods with preservation of organs are preferred.
The range of services of the Department of Urology:
Kidneys:
Robot-assisted and laparoscopic partial resection of the kidney
Laparoscopic nephrectomy
Open surgical partial resection of the kidney and nephrectomy
Radiofrequency ablation
Treatment of progressive and metastatic renal cell carcinoma
Bladder
Transurethral resection of the bladder (also with the help of fluorescence)
Radical cystectomy with fixation of the site of the ileum to create an artificial bladder (open and robotic intervention)
Resection of the bladder (open and robotic)
Chemotherapy
Prostate
Nerve preserving prostatecticullectomy(open surgical and robotic)
Laparoscopic lymphadenectomy
Fusional biopsy of the prostate under the control of MRI or ultrasound
Penis and testicles
Partial or total penectomy
Invasive and pelvic lymphadenectomy
Testicular Removal
Retroperitoneal lymphadenectomy (open surgical and minimally invasive)
Chemotherapy and radiation therapy for the treatment of tumors of the penis and testicles
Robotic assisted surgery
Radical prostatectomy, renal pelvis, partial renal resection, ureter reimplantation, cystectomy, ureter replacement
Treatment of stones
Extracorporeal shock wave lithotripsy (ESWL)
Rigid and flexible ureterorenoscopy with laser lithotripsy
CHNL and mini-CNL
Treatment of disorders of bladder emptying
TURP
Holmium laser enucleation of the prostate
Internal urethrotomy
Injection of botulinum toxin with a hyperactive bladder
Bladder enlargement with wrinkling
Treatment of diseases of male genital organs
Circumcision
Hydrotherapy
Schroeder-Essend operation
Reconstructive urology
Laparoscopic pyeloplasty, laser endopyelotomy
Implantation of a cavernous body prosthesis (AMS 700)
Implantation of an artificial sphincter (AMS 800 or Zephyr)
Urethroplasty using the oral mucosa
Curriculum vitae
Study of medicine, Charite University Berlin.
1996 Internship at the Memorial Cancer Center. Sloan-Kettering, New York, USA.
1997 - 2006 Doctor-Assistant in Urology and Surgery, University Clinic named after Benjamin Franklin Berlin, St. Joseph's Hospital Berlin and the Stralsund Hospital.
2007 - 2013 Chief Physician of the Department, University Hospital Charite Berlin.
2010 - 2013 Head of the Department of Urological Robotic Assisted Surgery, University Hospital Charite Berlin.
2010 - 2013 Head of the Department of Urogenital Tumors, Interdisciplinary Cancer Center Charite Berlin.
Since 2012 Position of professor at the University Hospital Charite Berlin.
Since 2013 Chief Physician of the Department of Urology, Vivantes Humboldt Hospital.
Photo of the doctor: (c) Vivantes Netzwerk für Gesundheit GmbH
Department of Urology.
Vivantes Humboldt Hospital Berlin:

Request more information now.
We will be happy to answer all your questions.
---