Vivantes Kaulsdorf Hospital Berlin
Department of General and Abdominal surgery, Proctology (

332611

)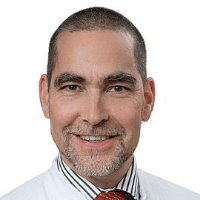 Dr.
Jens Burghardt
Specialized in: general and abdominal surgery
About the Department of General and Abdominal surgery, Proctology at Vivantes Kaulsdorf Hospital Berlin
The Department of General and Abdominal surgery, Proctology at the Vivantes Kaulsdorf Hospital offers a full range of services in these areas of medicine. However, its main focus is abdominal surgery (internal surgery): surgeries on the digestive tract organs, as well as on the endocrine glands. Whenever possible, minimally invasive surgery is used. The head of the department is Dr.
Jens Burghardt.
Abdominal surgeons and gastroenterologists have always worked closely together for decades. About half of patients with diseases of the gastrointestinal tract need endoscopic, surgical services, consultations and joint treatment by specialists of the corresponding additional specialization.
The department has a subdivision for interdisciplinary medical care of patients with diseases of the digestive system. It employs doctors from both specialized departments. Every day it holds meetings and discussions of clinical pictures of patients. Within the framework of the certified Vivantes Cancer Center, doctors conduct consultations on individual treatment plans for patients with malignant diseases.
The constructive cooperation of all needed specialists within the clinic and the Vivantes Cancer Center contributes to the achievement of more effective results of treatment. Thanks to this approach, individual treatment strategies are developed for each patient.
In addition to open surgical interventions on the stomach, small and large intestine, minimally invasive surgeries and so-called "rendezvous" operations are also performed in the department. for treatment of benign or malignant tumors of the stomach and large intestine, doctors use endoscopy and minimally invasive surgery, which entails much fewer risks than, for example, open surgery.
The Department of General and Abdominal surgery offers a wide range of surgical interventions:
Operations on the thyroid and parathyroid gland
Operations on the esophagus
Operations on the stomach
Operations on the liver and biliary tract
Operations on the gallbladder
Operations on the pancreas
Operations on the adrenal glands
Operations on the intestines and cecum
Operations for defects in the abdominal wall and diaphragm
In the field of proctology, the department offers such services:
Treatment of hemorrhoidal disease (in accordance with the stage of pathology)
Surgical treatment of anal fissures
Surgery of anal fistulas and abscesses
Surgical treatment of coccyx fistula and plastic reconstruction
Operations for prolapse of rectum
Minimally invasive procedures for narrowing of the rectum (transanal endoscopic microsurgery)
Surgical treatment of colorectal cancer (transanal endoscopic microsurgery, rectal resection)
Photo of the doctor: (c) Vivantes - Netzwerk für Gesundheit GmbH
Department of General and Abdominal surgery, Proctology.
Vivantes Kaulsdorf Hospital Berlin:

Request more information now.
We will be happy to answer all your questions.
---