Vivantes Neukölln Hospital Berlin
Department of Adult and Pediatric Ophthalmology (

357436

)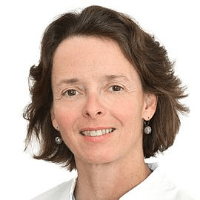 Prof. Dr. med.
Sabine Aisenbrey
Specialized in: ophthalmology
About the department
The Department of Adult and Pediatric Ophthalmology at the Vivantes Neukölln Hospital offers the full range of modern medical services in this field. The therapeutic capabilities of the department include conservative therapy, sparing laser surgery and high-precision microsurgical interventions. In addition, the department provides round-the-clock qualified medical care for patients with injuries of the eye and its appendages. The department is headed by Prof. Dr. med. Sabine Aisenbrey.
The range of medical services of the department includes:
Cornea
Corneal transplantation
Cross-linking
Astigmatism correction
Phototherapeutic keratectomy (PTK) for diseases affecting the surface of the cornea
Refractive surgery for vision correction
Excimer laser surgery LASIK, EPILASIK, LASEK, PRK, online measurement of the thickness of the cornea by means of optical coherence tomography
Refractive lens replacement and implantation of phakic lenses, astigmatism correction with the intraocular lens
Lens and cataract
Surgical treatment of all diseases of the lens, including congenital, pediatric and traumatic, as well as age-related cataracts
Implantation of all models of artificial lenses (standard, premium and tailored)
YAG laser capsulotomy
Revision surgery after lens operations, reconstructive surgery for complications after implantation of artificial lenses
Reconstructive surgery on the pupil and iris in the developmental or injury
Glaucoma
Conservative and surgical treatment of glaucoma
Argon laser trabeculoplasty, YAG laser iridotomy, cyclophobic coagulation
Diagnostics of the optic nerve (HRT diagnostics of the optic disc)
Diseases of the retina, vitreous and macula
Surgery for retinal detachment, minimally invasive surgery for diseases of the retina, vitreous and macula
Argon and diode laser treatment of vascular diseases of eyes (diabetes, obliterating diseases, retinopathy of prematurity)
Intravitreal injections and photodynamic therapy for age-related macular degeneration and other diseases of the macula
Conservative diagnostics and therapy for circulatory disorders and inflammatory diseases
Neuro-ophthalmology and strabismus treatment
Diagnosis and treatment of all forms of diseases of the muscular apparatus of the eyes
Orthoptic treatment of eye diseases in children
Eyelids and tear ducts
Eyelid plastic surgery (defects, benign and malignant tumors)
Silicone tube implants and Toti procedure for stenosis of lacrimal ducts
Curriculum vitae
Since 2017 Chief Physician, Department of Ophthalmology, Vivantes Neukölln Hospital.
2014 - 2016 Head of the Department Ophthalmology, University of Oldenburg, Clinical Director, Eye Hospital Oldenburg, Germany.
2011 Assistant Professor, Medical Faculty, University of Tuebingen, Germany.
2008 Habilitation thesis, Medical Faculty, University of Tuebingen, Germany.
2004 - 2014 Fellow, Consultant,Deputy Chief Physician, Department of Ophthalmology, University of Tuebingen, Germany.
2002 Research Fellow, Medical Faculty, Tufts University, Boston, USA.
1995 Medical degree, University of Cologne, Germany.
Photo of the doctor: (c) Vivantes Netzwerk für Gesundheit GmbH
Department of Adult and Pediatric Ophthalmology.
Vivantes Neukölln Hospital Berlin:

Request more information now.
We will be happy to answer all your questions.
---