Vivantes Neukölln Hospital Berlin
Department of Adult and Pediatric Dermatology, Venereology (

357438

)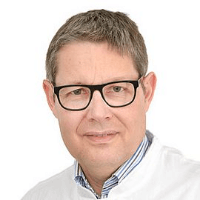 Prof. Dr. med.
Uwe Hillen
Specialized in: adult and pediatric dermatology, venereology
About the Department of Adult and Pediatric Dermatology, Venereology at Vivantes Neukölln Hospital Berlin
The Department of Adult and Pediatric Dermatology, Venereology at the Vivantes Neukölln Hospital offers the full range of services in the relevant medical fields. The department specializes in the diagnostics and treatment of skin diseases of any complexity, as well as sexually transmitted diseases. Experienced specialists of the department develop an individual treatment concept, taking into account the needs and wishes of the patient, which ensures excellent treatment results. The department is headed by Prof. Dr. Uwe Hillen.
The department's scope of tasks also includes both diagnostics and treatment of all types of fungal infections and diseases of the skin, mucous membranes, hair and nails developed due to these infections.
In the field of conservative dermatology, there is provided diagnostics and non-surgical treatment of all acute and chronic skin diseases and related mucous membranes. These include all inflammatory, infectious and allergic skin diseases, autoimmune diseases and hereditary skin diseases in the elderly, adults and children. For example, erysipelas, shingles, rash accompanied by itching and blisters, psoriasis, itching, atopic dermatitis and many others.
In addition, the department offers all types of dermatological interventions. The operations are performed under local and general anesthesia.
The range of medical services of the department includes:
Surgical dermatology
Removal of benign and malignant neoplasms on the skin
Ultrasound histography-guided surgery
Plastic and cosmetic interventions for wound closure, skin grafting
Surgery on nails
Circumcision (removal of the foreskin)
Oncological dermatology
White skin cancer
Black skin cancer
Red skin cancer
Skin lymphomas
Adjuvant and palliative therapy with the use of cytokines and cytostatics
Venereology
Diagnosis and treatment of sexually transmitted diseases (in men and women)
Gonorrhea
Chlamydia (chlamydia infection)
Trichomoniasis
Fungal infections
Bacterial vaginosis
Stomach ulcer (in men and women)
Syphilis
Herpes
And many other diseases
Curriculum vitae of Prof. Dr. med. Uwe Hillen
Dr. Uwe Hillen began his professional career in 1989 at the Center for Pathology and Medical Law at the University of Ulm. From 1983 to 1989, Dr. Hillen studied medicine at the Johannes Gutenberg University Mainz. In 2008 he defended his doctoral dissertation.
Since 1991, Dr. Hillen has worked in the Department of Dermatology, Venereology and Allergology at the University Hospital Essen, since 1998 he served as the Deputy Chief Physician, and in 2007-2008 temporarily acted as the Chief Physician of the department.
On 16 February 2017, Dr. Hillen was appointed Chief Physician of the Department of Dermatology and Venereology at the Vivantes Neukölln Hospital and Director of the Skin Tumor Center Vivantes Berlin.
Photo of the doctor: (c) Vivantes Netzwerk für Gesundheit GmbH
Department of Adult and Pediatric Dermatology, Venereology.
Vivantes Neukölln Hospital Berlin:

Request more information now.
We will be happy to answer all your questions.
---