Vivantes Neukölln Hospital Berlin
Department of Adult and Pediatric Neurosurgery (

357452

)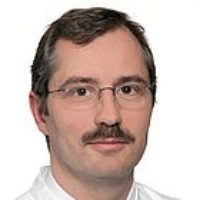 PD Dr. med.
Andreas Jödicke
Specialized in: neurosurgery
About the department
The Department of Adult and Pediatric Neurosurgery at the Vivantes Neukölln Hospital offers the full range of services in this medical field. The department specializes in the detection and surgical treatment of all diseases, malformations, injuries and other lesions of the central and peripheral nervous system. Of particular importance is a comprehensive imaging examination, which is carried out in close cooperation with the Department of Clinical and Interventional Neuroradiology. The department is headed by PD Dr. med. Andreas Jödicke, who is included in the ranking of the top doctors in Germany according to the magazine FOCUS, Leading Medicine Guide and Spine Guide websites.
The medical team of the department consists of highly qualified specialists who perform complex operations on the head, base of the skull, brain and spine, operations to remove tumors on the vertebral bodies. Many of the operations are minimally invasive.
It should be noted that according to the FOCUS magazine rating, the Department of Adult and Pediatric Neurosurgery ranks among the top clinics of 2018 in the treatment of brain tumors. Also, the German Society of Hematology and Oncology certified it as the Cancer Center.
In addition, the operating rooms are equipped with the state-of-the-art equipment, which contributes to optimal treatment results, for example, high-performance surgical microscopes, endoscopic systems, computerized neuronavigation, intraoperative neurophysiological monitoring systems, etc. Consequently, physicians can monitor the neurophysiological functions of the central and peripheral nervous system during surgery, and thus provide the best possible safety for the patient.
The main treatment focuses of the department are:
Minimally invasive and endoscopic surgery in adults and children
Neuro-oncology
Operations to treat cerebral vascular malformations and cerebral aneurysms
Skull base surgery
Pituitary gland surgery
Operations to treat disorders of cerebrospinal fluid circulation
Spinal surgery (incl. microsurgical interventions on the spine)
Neurosurgical pain therapy
Peripheral nerve surgery
Neurotraumatology
Orbital surgery
Curriculum vitae
1990 Medical qualification at the Free University of Berlin, Germany.
1992 Medical Degree (MD)
2006 Professor Degree, Academic Lecturer in Neurosurgery, University of Giessen, Germany.
Neurosurgical Training in subspecializations, EANS and ESPN training in Bielefeld, Germany and Zürich, Switzerland.
Since 2010 Chief Physician of the Department of Neurosurgery at the Vivantes Neukölln Hospital, Berlin, Germany.
Photo of the doctor: (c) Vivantes Netzwerk für Gesundheit GmbH
Department of Adult and Pediatric Neurosurgery.
Vivantes Neukölln Hospital Berlin:

Request more information now.
We will be happy to answer all your questions.
---