Vivantes Neukölln Hospital Berlin
Department of Adult and Pediatric Orthopedics, Trauma Surgery (

359164

)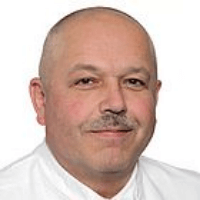 PD Dr. med.
Reinhold-Alexander Laun
Specialized in: orthopedics, trauma surgery
About the department
The Department of Adult and Pediatric Orthopedics, Trauma Surgery at the Vivantes Neukölln Hospital offers the full range of services in these focuses. The department specializes in the diagnostics and treatment of all diseases and injuries of the musculoskeletal system, spine in adults and children. The department is headed by PD Dr. med. Reinhold-Alexander Laun.
There is a helipad, so the department has the ability to promptly assist critically wounded patients.
In the field of orthopedics, the department offers a wide range of surgical interventions to replace all joints. Also, many modern operations are performed to treat injuries, deformities and diseases of the spine.
The main treatment focuses of the department are:
Life-threatening injuries due to an accident (polytrauma)
Mild and severe injuries of the spine (trauma spinal surgery)
Pediatric traumatology (trauma in children due to an accident)
Treatment of shoulder injuries
Treatment of hip fractures
Shoulder, elbow, knee and hip replacement surgeries
Hand surgery (all hand injuries, pinched nerves (carpal canal syndrome, cubital canal syndrome), Dupuytren's contracture, joint diseases, tumors, scar revision)
The whole spectrum of acute and rehabilitation trauma surgery
The department offers the following diagnostic and therapeutic services:
Treatment and care for critically wounded patients
Endoprosthetics (modern implants and prostheses)
Outpatient surgery
Diagnostic arthroscopy
Ergotherapy at home
Psychological support
Individual multimodal comprehensive follow-up treatment
Advice on traumatology and nutrition for the elderly
Support from professional societies
And many other medical services
Photo of the doctor: (c) Vivantes Netzwerk für Gesundheit GmbH
Department of Adult and Pediatric Orthopedics, Trauma Surgery.
Vivantes Neukölln Hospital Berlin:

Request more information now.
We will be happy to answer all your questions.
---