Vivantes Neukölln Hospital Berlin
Department of Adult and Pediatric Urology (

359165

)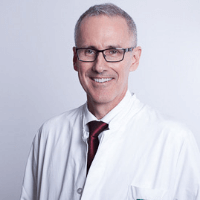 Dr. med.
Thomas Oliver Henkel
Specialized in: adult and pediatric urology
About the department
The Department of Adult and Pediatric Urology at the Vivantes Neukölln Hospital offers the full range of services in this medical field. The department specializes in the treatment of all urological diseases in adults and children. Thanks to a competent, experienced team of doctors and modern equipment, the department provides first-class medical care in accordance with international standards. The department is headed by Dr. med. Thomas Oliver Henkel.
The department provides all types of diagnostics and treatment of urological diseases in children.
Most often, the specialists of the department have to deal with the following diseases:
Acute and chronic urinary tract infections
Kidney inflammations
Acute and chronic prostatitis
Infections of the testicles and epididymis
Urethritis
Problems with urination (e.g., incontinence)
Benign prostatic hyperplasia
Malignant diseases
Erectile dysfunction
Hormonal imbalance
Problems with fertility
Kidney stones
The range of diagnostic services of the department includes:
Urologic diagnostics
Computed tomography of the kidneys
X-ray of the urinary tract
Contrast-enhanced sonography of the kidneys (tumors, trauma in children and diagnosis of reflux in children)
Ultrasound examination of the prostate
MRI
Blood test
Urogynecological diagnostics
Examination of disorders of the urinary tract and intestines
bladder pressure measurement
Bladder ultrasound
Endoscopy
The therapeutic options of the department include:
Interventional treatment of tumors (embolization, radiofrequency ablation) and bleeding (embolization)
Bladder catheter installation
Drug therapy
And many other types of therapy
Curriculum vitae
1976 - 1979 Bachelor of Science, University of Windsor, Windsor, Ontario, Canada.
1979 - 1986 Medical School, Justus-Liebig-University, Giessen, Germany.
1987 - 1989 Department of Pathology, University Hospital Mannheim, under the direction of Prof. Dr. Uwe Bleyl.
1992 Medical Thesis (Dr. med.).
1989 - 1997 Department of Urology, University Hospital Mannheim, under the direction of Prof. Peter Alken.
1997 - 1998 Department of Urology, Diakonie Hospital Mannheim, under the direction of PD Dr.med. Reinhold Tschada.
Since 1998 Urology office in partnership with Dr. Frank Kahmann in Berlin.
2000 - 2004 Co-founder of the "Ambulantes Operationszentrum im Ullsteinhaus GmbH" in Berlin.
Since 2004 Co-moderator and founder of the "Qualitätszirkels Urologische Onkologie", Urban Hospital in Berlin.
Photo of the doctor: (c) Vivantes Netzwerk für Gesundheit GmbH
Department of Adult and Pediatric Urology.
Vivantes Neukölln Hospital Berlin:

Request more information now.
We will be happy to answer all your questions.
---