Academic Hospital Cologne-Holweide
Department of Diagnostic and Interventional Radiology, Neuroradiology and Nuclear Medicine (

121

)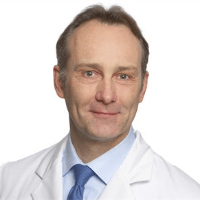 Prof. Dr. med.
Axel Goßmann
Specialized in: diagnostic and interventional radiology neuroradiology, nuclear medicine
About the department
The Department of Diagnostic and Interventional Radiology, Neuroradiology and Nuclear Medicine at the Academic Hospital Cologne-Holweide offers the entire spectrum of radiological and radioisotope diagnosis and therapy. The Department is headed by Prof. Dr. med. Axel Goßmann. There are represented the following focuses: diagnostic radiology, neuroradiology, nuclear medicine and isotope therapy. With the latest technologies, such as high-performance CT scanner SOMATOM Definition Flash, equipment for two-level angiography, a few MRI machines of the latest design and the picture archiving and communication system (PACS), the Department offers a rapid, sparing and safe diagnosis.
The range of medical services in the field of diagnostic radiology at the Academic Hospital Cologne-Holweide includes:
Conventional X-ray diagnosis
Images of bones, including special images
Chest X-ray
Examinations of the gastrointestinal tract, including swallowing video
Ultrasound of all organs, intraoperative sonography and ultrasound-guided puncture
Angiography and phlebography with balloon dilatation of vascular occlusion and implanted stents, chemoembolization of tumors and image, if necessary dilatation of dialysis shunts
Computer tomography of all areas of the body, including the measurement of bone density, CT-guided puncture for receiving material for cytological and histological examination
Radiofrequency ablation (i.e., treatment of tumors by hyperthermia)
Mammography with preoperative localization of suspicious focal lesions
Special images of the upper and lower jaw
MRI of all organs, including MR angiography and preoperative neuronavigation
In addition to the diagnosis, the Department under the direction of Prof. Dr. med. Axel Goßmann also offers the following therapeutic surgery:
Surgery for vascular changes (e.g., balloon expansion in case of vascular constriction and occlusion of vascular malformations)
Radiofrequency ablation (spot removal of the affected tissue, such as liver metastases by means of high electric fields)
CT scan and fine needle ultrasound-guided puncture of all organs and soft tissue changes
Therapeutic punctures of the pathological fluid accumulation, such as abscesses
The main focuses of the Department of Neuroradiology at the Academic Hospital Cologne-Holweide include:
Stroke therapy
Neuroradiological therapy
Aneurysm closure
Angioma closure
Embolization of tumors
In the field of nuclear medical, the Academic Hospital Cologne-Holweide offers all radioisotope diagnostic methods:
Cardiac diagnosis (myocardial scintigraphy at rest and at load, assessment of myocardial viability after infarction, detection of circulatory disorders etc.)
Skeletal, bone marrow and inflammation scintigraphy
Renal examinations with different diagnostic objectives
Special diagnostic methods (such as tumor scintigraphy)
Perfusion scintigraphy and lung ventilation scintigraphy
Brain scintigraphy with various diagnostic objectives
Scintigraphy of the parathyroid gland, adrenal glands and liquor space
Thyroid diagnosis
Photo of the doctor: (c) Krankenhaus Köln-Holweide
Department of Diagnostic and Interventional Radiology, Neuroradiology and Nuclear Medicine.
Academic Hospital Cologne-Holweide:

Request more information now.
We will be happy to answer all your questions.
---
Certificates