Academic Hospital Harlaching Munich
Department of Pulmonology, Gastroenterology and Internal Medicine (

113823

)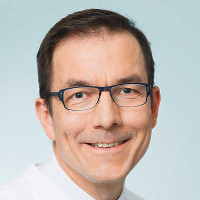 Prof. Dr. med.
F. Joachim Meyer
Specialized in: pulmonology, gastroenterology, internal medicine
About the department
The Department of Pulmonology, Gastroenterology and Internal Medicine at the Academic Hospital Harlaching deals with the treatment of patients suffering from diseases of the lungs, gastrointestinal tract, liver, biliary tract and pancreas. A 24-hour endoscopic surgery service ensures medical care for patients with bleedings and stenosis. A separate focus is made on the cardiopulmonary functional diagnostics with the help of spiroergometry. The department treats 2,800 inpatients every year. The department is headed by Prof. Dr. med. F. Joachim Meyer. Every year, 2,800 inpatients are treated in the department.
For more than 100 years, the department has been treating patients with lung diseases. Today, these patients receive medical help from the Munich Center for Lung Diseases, which is managed jointly with the Bogenhausen Hospital and combines the vast experience and first-class expertise of specialists "under one roof"
Another key focus is gastroenterology. The doctors of the department will always find time to thoroughly ask the patient different questions and to study the causes of the disease related to the gastrointestinal tract, including the liver and pancreas. This stage of treatment is essential for making an accurate diagnosis. Diagnosis is carried out using modern technologies, in particular doctors perform endoscopic gastrointestinal surgery using high-definition video equipment. In addition, with an annual number of about 12,000 examination, the specialists of the department also have extensive experience in the field of ultrasound diagnostics.
In the field of gastroenterology, the department specializes in the following diagnostic and treatment procedures:
Removal of polyps and small tumors
Bleeding control (round-the-clock endoscopic surgery service)
Dilation and, if necessary, shunting of stenosis
Removal of bile duct stones
Placement of probes and drains
Laser treatment
The priority focuses of the department include:
Pulmonology
Gastroenterology
Intensive care medicine
Weaning
Department of Pulmonology, Gastroenterology and Internal Medicine.
Academic Hospital Harlaching Munich:
Request more information now.
We will be happy to answer all your questions.
---
---
Certificates