Academic Hospital Harlaching Munich
Department of Neurology and Neurological Intensive Care Medicine (

113827

)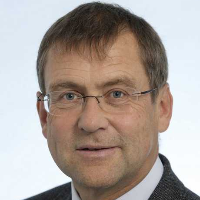 Prof. Dr. med.
Roman Haberl
Specialized in: neurology, neurological intensive care medicine
About the department
The Department of Neurology and Neurological Intensive Care Medicine at the Academic Hospital Harlaching treats patients with brain, spinal cord, nerve and muscle diseases. The most common diseases in this field are strokes, inflammatory conditions of the brain and meninges (multiple sclerosis, meningitis and encephalitis), impaired consciousness, motor disorders (e.g., Parkinson's disease), dizziness, as well as inflammations of the nerve roots and peripheral nerves. The department is headed by Prof. Dr. med. Roman Haberl.
The main directions of the department include a special stroke unit, a section for early neurological rehabilitation and a day neurological hospital. A team of experienced neurologists, neuropsychologists, speech therapists, physio/ergotherapists and nursing staff provides treatment for patients with the most severe disorders on both an inpatient and outpatient basis. The Department of Neurology, headed by Prof. Dr. med. Roman Haberl, is a member of the Neurocenter of the Munich municipal clinic.
The department is especially focused on the treatment of stroke patients. It is a certified specialised stroke unit and a part of the professional south-eastern Bavaria community for the treatment of strokes (TEMPIS). In particular, the department specializes in the early rehabilitation after stroke. Therapists work together with patients to return the skills affected by the stroke. Here, from the first steps, the support is provided by an experienced team of doctors, nursing specialists, physiotherapists, ergotherapists, etc.
Main focuses of the department include:
Inflammatory diseases (multiple sclerosis, meningitis, encephalitis)
Motor disorders, for example, Parkinson's disease
Nerve root inflammations
Disorders of consciousness
Peripheral nerves
Early rehabilitation
Department of Neurology and Neurological Intensive Care Medicine.
Academic Hospital Harlaching Munich:
Request more information now.
We will be happy to answer all your questions.
---
---
Certificates