Academic Hospital Harlaching Munich
Department of Orthopedics, Traumatology, Hand and Reconstructive Surgery (

113831

)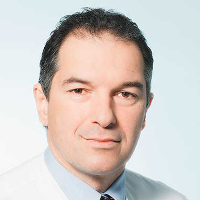 Prof. Dr. med.
Georg Gradl
Specialized in: orthopedics, traumatology, hand and reconstructive surgery
About the department
The Department of Orthopedics, Traumatology, Hand and Reconstructive Surgery at the Academic Hospital Harlaching helps patients suffering from injuries and chronic diseases, especially those of musculoskeletal system. The department specializes on spinal surgery. Along with fractures, an interdisciplinary team of orthopedic surgeons and neurosurgeons primarily treats degenerative diseases of the spine. The department treats more than 3,000 patients every year. The chief physician of the department is Prof. Dr. med. Georg Gradl.
The department has a team of experienced specialists who prefer conservative treatment methods for a variety of chronic diseases of the spine and joints. If the surgery is needed to preserve the quality of patient's life, there are performed the most sparing and joint-preserving surgeries. The doctors use modern surgical techniques and tools that allow – with the help of minimally invasive techniques, microscope and navigator – to provide the best possible safety and quick regeneration.
Another key focus of ​​the department, led by Prof, Dr. med. Georg Gradl, is artificial joint prosthetics. These operations are primarily performed in large joints, namely hip, knee and shoulder. They have become a common treatment standard. When performing joint replacement surgery, only the affected parts of the joint are removed and replaced by prostheses.
Main medical directions of the Department of Orthopedics include:
Bone fractures, accidents
Spinal surgery
Endoprosthetics, artificial vessel implantation, total joint prosthetics
Sports injuries, ligament injuries
Foot surgery
Curriculum vitae
Prof. Dr. med. Georg Gradl took over the Department of Orthopedics, Traumatology and Reconstructive Surgery at the Academic Hospital Harlaching in 2014.
Prof. Gradl, born in 1969, began his professional career after completing medical studies at the LMU in Munich in 1995 at the Trauma Surgery Faculty. He completed his doctorate in 1998. The spinal surgery marked his further career. To deepen his expertise even further, Prof. Gradl went to the University Hospital Basel for one year. This Hospital is considered the cradle of trauma surgery. From 2000, he accepted the challenge to create the Department of Surgery for Accidents at the University Hospital Rostock. Since then, the department has been able to triple its surgical interventions and is now a supra-regional maximum provider. In 2006, Prof. Gradl completed his habilitation at the Medical Faculty of the University of Rostock. He accepted professorship in 2011.
Photo of the doctor: (c) München Klinik gGmbH
Department of Orthopedics, Traumatology, Hand and Reconstructive Surgery.
Academic Hospital Harlaching Munich:

Request more information now.
We will be happy to answer all your questions.
---
Certificates