Academic Hospital Harlaching Munich
Department of Pediatrics and Adolescent Medicine (

113835

)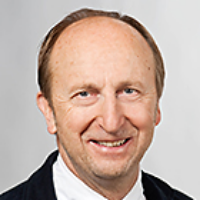 Prof. Dr. med.
Stefan Burdach
Specialized in: pediatrics, adolescent medicine
About the department
The Department of Pediatrics at the Academic Hospital Harlaching covers a wide range of diseases in childhood and adolescence. The areas of specialization include neonatology, allergies, lung diseases, cardiology, neuropediatrics, diabetology and treatment of inflammations and infections. The Perinatal Center treats about 3,800 inpatients every year. In the case of especially rare diseases, the treatment program is coordinated with the Children's Hospital Schwabing. The department is headed by Prof. Dr. med. Stefan Burdach.
Among the main specialized focuses of the department are heart diseases. When detecting heart defects before birth, doctors maintain cooperation with gynecologists. The pediatric cardiologic outpatient clinic covers the whole range of treatment of heart defects in children. The diagnostic possibilities include echocardiography (ultrasound of the heart), 12-channel ECG, long-term ECG, 24-hour blood pressure monitoring and tests during exercising. Having a high qualification, the pediatric cardiologic team is ready to offer the comprehensive treatment of all heart diseases in childhood and adolescence.
Another priority of the department is neuropediatrics, which deals with the treatment of diseases of the brain, nervous system and muscles. There is offered the entire spectrum of pediatric neurology, including complex systemic diseases. Particular attention is paid to phased diagnostics. In addition to electrophysiological functional diagnostics (EEG), imaging and MRI, the doctors of the department use all the possibilities of modern genetic diagnostics. In this case, extensive experience contributes to the fact that the diagnosis phase is planned in such a way that the child needs to undergo a minimum number of procedures.
Main focuses of the department:
Neonatology
Allergies, neurodermatitis, asthma and lung diseases
Cardiology
Neuropediatrics (diseases of the nervous system, brain)
Diabetes
Infectious diseases
Intensive care
Curriculum vitae
Professional career
1978 - 1983 Internship, Children's Hospital Cologne, Dana Farber Cancer Institute, Harvard Medical School, Boston.
1984 - 1987 Scholarship of the German Research Society, Stanford University Medical Center.
1987 Foundation of the Laboratory for Experimental Hematology and Stem Cell Transplantation.
1987-1997 Acting Director of the Clinic and Leading Senior Physician, Medical Center Duesseldorf.
1997 Invitation to the post of Professor of the Department of General Pediatrics,Martin Luther University Halle-Wittenberg.
Invitation to the post of Professor of the Department of Pediatrics, Technical University of Munich.
Currently, Head of the Department of Pediatrics, Technical University of Munich; Medical Director, Children's Hospital Munich Schwabing (Department of Pediatrics, Schwabing Hospital, StKM GmbH Medical Center and Rechts der Isar Hospital of the Munich Technical University).
Photo of the doctor: (c) München Klinik gGmbH
Department of Pediatrics and Adolescent Medicine.
Academic Hospital Harlaching Munich:

Request more information now.
We will be happy to answer all your questions.
---
Certificates