Academic Hospital Harlaching Munich
Department of Hematology, Oncology and Palliative Medicine (

113839

)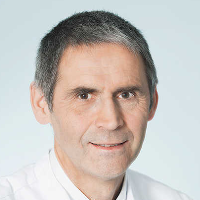 Prof. Dr. med.
Meinolf Karthaus
Specialized in: hematology, oncology, palliative medicine
About the department
The Department of Hematology, Oncology and Palliative Medicine at the Academic Hospital Harlaching primarily treats patients with cancer or hematologic diseases. The treatment is based on the comprehensive approach, which includes both physical and psychosocial aspects. The department is part of the interdisciplinary Cancer Center Munich Süd. It treats over 1,400 inpatients every year. The department is headed by Prof. Dr. med. Meinolf Karthaus.
The department's priority is the treatment of leukemia. There are used thoroughly designed, proven and individual treatment concepts. The department specializes in all types of blood cancer, especially on acute and chronic forms of lymphatic and myeloid leukemia.
One of the main advantages of the department is a great experience. Each senior physician working in the department has over 20 years of practice in the field of cancer therapy. The specialists of the department have been performing high-dose and intensive therapy for more than 30 years, as well as autologous stem cell transplantation for more than 20 years. Allogeneic transplantation is carried out in the outstanding partner centers in Munich. If necessary, cooperation with a nearby Naturopathic Clinic is also possible.
Interdisciplinary cooperation and quality guarantee are an important prerequisite for effective cancer therapy. The Cancer Centers of the department certified by the German Cancer Society, the German Society of Hematology and Oncology meet this requirement. In addition, according to the FOCUS magazine rating, the leading doctors of the department are the best specialists in Germany.
Diagnostic and therapeutic capabilities of the Department of Oncology and Hematology include:
Blood cancer (leukemia)
Lymphomas
Bone cancer (multiple myeloma)
Lung cancer
Special focus (colon cancer)
Breast cancer
Ovarian cancer
Cervical cancer
Cancer surgery – kidneys, bladder, prostate, testicles
Curriculum vitae
Professional career:
1983 State examination and PhD.
1989 Additional qualification "Sports medicine", Medical Chamber Westfalen-Lippe.
1990 Exam, qualified as a therapist, Medical Chamber Westfalen-Lippe.
1993 Specialty "Gastroenterology", Medical Chamber Koblenz.
1997 Specialty "Hematology and Oncology", Medical Chamber of Lower Saxony.
1999 PhD thesis, Internal Medicine, Medical Hanover School.
2000 Chief Physician of the Department of Palliative Medicine, EJK Bielefeld.
2001 Chief Physician, EJK Bielefeld, Department of Oncology and Palliative Medicine.
2003 Visiting Professor, Hannover Medical School.
2005 Additional qualification "Infectology", Medical Chamber Westfalen-Lippe.
2006 Additional qualification "Palliative medicine".
Since 01.09.2007 Chief Physician, Municipal Hospital Munich, Neuperlach, Department of Hematology and Oncology.
Since 01.10.2008 Chief Physician, Cancer Center Munich Süd, Neuperlach and Harlaching Hospitals.
Photo of the doctor: (c) München Klinik gGmbH
Department of Hematology, Oncology and Palliative Medicine.
Academic Hospital Harlaching Munich:

Request more information now.
We will be happy to answer all your questions.
---
Certificates