Academic Hospital Harlaching Munich
Department of Cardiology and Internal Intensive Care Medicine (

281

)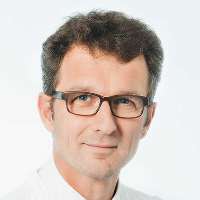 Prof. Dr. med.
Harald Kühl
Specialized in: cardiology, internal intensive medicine
About the department
The Department of Cardiology and Internal Intensive Care Medicine at the Academic Hospital Harlaching provides the whole spectrum of diagnostics and treatment for diseases of the heart and adjacent vessels. Cardiological priorities include myocardial infarction, treatment of heart valve defects, for example, MitraClip for mitral valve insufficiency, TAVI for aortic valve stenosis, treatment of heart rhythm disorders in the modern electrophysiological laboratory, interventional treatment of structural heart diseases, etc. The department is headed by Prof. Dr. med.
Harald Kühl.
The Department of Cardiology has 2 Cardiac Catheterization Laboratories (among the most modern ones in Munich), which allow for the treatment of coronary heart diseases at the latest level of medical achievements. Thanks to modern technologies, in comparison with the previous generation, the radiation dose for both patient and doctor can be reduced by more than 50%.
The Department of Cardiology is also the Chest Pain Unit certified by the German Society of Cardiology. This means that patients with complaints of chest pain derive a special benefit here, since they can receive rapid diagnosis and subsequent targeted treatment.
Another advantage of the department is cooperation of four adjacent disciplines of internal therapy and neurology in the diagnosis and treatment of cardiac diseases. There is provided multidisciplinary and comprehensive treatment (and diagnostics) of diseases of the heart, vessels, lungs and internal organs, as well as brain diseases. Therefore, for example, dialysis patients with a high risk of cardiovascular diseases benefit from collaboration with the Department of Nephrology. Similarly, patients with stroke can also get optimal diagnosis and treatment here.
The main focuses of the Department of Cardiology include:
Coronary heart diseases, myocardial infarction
Structural heart diseases
Heart rhythm problems
Heart failure
Curriculum vitae
1985 - 1992 Studied medicine at the Universities of Mainz, Erlangen and Aachen.
1992 - 1994 Resident of Internal Medicine at Luisenhospital in Aachen.
1994 Doctorate at the Medical Faculty of the RWTH Aachen.
1994 - 2000 Resident of Internal Medicine and Cardiology at the University Hospital Aachen.
1999 Area of specialization "Internal Medicine".
2000 - 2001 Research Assistant at the University Clinics of Leuven, Belgium and Amsterdam and the Netherlands; Main topic: cardiac imaging by means of cardiac magnetic resonance imaging; Grimmke Foundation scholarship holder.
2001 - 2009 Senior Physician at the Medical Clinic I, Department of Cardiology, Pulmonology and Angiology at the University Hospital RWTH Aachen.
2002 Focus on Cardiology.
2003 Habilitation and Venia legendi in internal medicine, Faculty of Medicine, RWTH Aachen University.
2004 Facultative Continuing Education in Special Intensive Care Medicine.
2005 Internal medicine specialist in echocardiography and Doppler sonography of extracranial vessels.
2006 Head of Cardiac Imaging at the University Hospital Aachen, Fellow of the European Society of Cardiology (FESC).
2007 Senior consultant of the cardiac catheterization laboratory at the University Hospital Aachen.
2008 European Cardiologist, Appointment as Visiting Professor at the Medical Faculty of the RWTH Aachen.
2009 Chief Physician at the Department of Cardiology, in Hospital Harlaching.
Department of Cardiology and Internal Intensive Care Medicine.
Academic Hospital Harlaching Munich:
Request more information now.
We will be happy to answer all your questions.
---
---
Certificates