Academic Hospital Marien Duesseldorf
Department of Oncology, Hematology and Palliative Care (

448358

)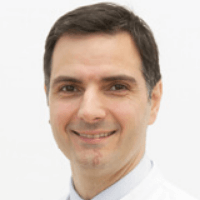 Prof. Dr. med.
Aristoteles Giagounidis
Specialized in: oncology, hematology, palliative care
About the department
As a part of the Interdisciplinary Oncology Center, the Department of Oncology, Hematology and Palliative Care at the Academic Hospital Marien Duesseldorf offers the full range of services in the field of diagnostics and drug treatment of oncological diseases of the internals (solid tumors and sarcomas), as well as blood and lymphatic system diseases (lymphomas, leukemias, etc.). In addition to first-class medical care, priority is given to interdisciplinary cancer counseling, psychosocial support and follow-up care after therapy completion. The department is headed by Prof. Dr. med. Aristoteles Giagounidis.
The department has 44 beds for inpatient treatment and 6 beds for patients who need palliative care. In addition, a special outpatient clinic is available for patients. After carrying out all the necessary examinations, doctors discuss each clinical case at regular interdisciplinary tumor boards, which allow developing an individual treatment strategy tailored to the specific needs and wishes of the patient.
Most often the specialists of the department have to deal with the treatment of the following diseases:
Breast cancer (treatment within a specialized center)
Lung and pleural cancer (bronchial carcinoma, pleural mesothelioma)
Esophageal cancer
Oncological diseases of the gastrointestinal tract (gastric, colon, rectal tumors)
Pancreatic cancer
Oncological diseases of the female and male genital organs (for example, cervical, uterine, ovarian carcinomas, testicular tumors)
Kidney and urinary tract cancer (hypernephromas, bladder carcinomas)
Bone and soft tissue sarcomas (bone, soft tissue sarcomas, gastrointestinal stromal tumors)
Brain tumors
Lymphatic tumors (malignant lymphoma, plasmacytoma)
Chronic leukemia
Other malignant diseases
The department's service range includes the following therapeutic options:
Drug treatment of tumors (chemotherapy)

Oral (tableted) chemotherapy
Local or regional chemotherapy
Antihormone therapy (for example, in breast or prostate cancer)
Other types of therapy

Biochemotherapeutic treatments (use of antibodies and enzyme inhibitors to suppress the division of tumor cells or their destruction)
Combined chemo- and radiotherapy in local progressive tumors of various origins
Methods of regional therapy

Chemoperfusion and chemoembolization (in collaboration with the Department of Diagnostic and Interventional Radiology)
Laser techniques
Cryotherapy (cold therapy)
Other types of therapy

Palliative and maintenance therapy (aimed at improving the patient's quality of life of and his well-being at the terminal cancer stages)
Other medical services
Curriculum vitae
In 1986, Prof. Aristoteles Giagounidis began the study of medicine at the University of Tuebingen, where in 1992 he defended his doctoral thesis (subject: "The new method of studying fructosamine").
After one-year practice in Liège, Belgium and in Tuebingen, Prof. Giagounidis worked in the Department of Internal Medicine I at the University Hospital Duesseldorf (1993 - 1999), under the direction of Prof. Dr. med. V. Schneider. From 1999 to 2013, he served as a Senior Physician at the St. John's Hospital in Duisburg.
In 1999, he was recognized as a Medical Specialist in Internal Medicine, and in 2008 as a Medical Specialist in Hematology and Internal Oncology. Then followed the habilitation in Internal Medicine (2008), Dresden University, subject: "Biological and prognostic significance of the 5q deletion in myelodysplastic syndromes".
In September 2012, Prof. Giagounidis was appointed the Head Physician of the Department of Oncology, Hematology and Palliative Care at the Academic Hospital Marien Duesseldorf.
Photo of the doctor: (c) Marien Hospital Düsseldorf
Department of Oncology, Hematology and Palliative Care.
Academic Hospital Marien Duesseldorf:

Request more information now.
We will be happy to answer all your questions.
---