Marien Hospital Duesseldorf
Department of Mammology (

448361

)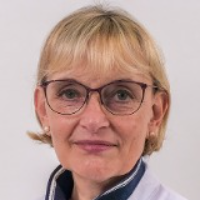 Dr. med.
Susanne Findt
Specialized in: mammology
About the Department of Mammology at Marien Hospital Duesseldorf
The Department of Mammology at the Marien Hospital Duesseldorf offers the widest range of services for the prevention, diagnostics and treatment of breast diseases. The main area of ​​the department's specialization is the detection and treatment of breast cancer – the department is certified by the German Cancer Society. The doctors of the medical facility are also competent in the treatment of benign breast diseases and correction of breast malformations, including in men (gynecomastia). Patients are offered special screening programs for breast cancer, which allow excluding the presence of pathology or detecting it in the early stage, which significantly increases the chances of a full recovery. The team of the department's breast specialists uses modern clinical protocols to achieve effective treatment outcomes. The department provides both conservative therapy and surgical treatment, including reconstructive plastic surgery using implants and autologous tissues. The treatment regimen is developed individually, based on a particular clinical case. The Head Physician of the department is Dr. med. Susanne Findt.
The department's team of doctors has long experience in the treatment of breast cancer. Breast cancer is one of the most common malignant pathologies in women, and, unfortunately, the number of patients with this diagnosis is steadily increasing every year. The department carries out comprehensive screening examinations to detect oncology in the early stage, when it is best treated. However, many women do not undergo regular check-ups with a breast specialist, so breast cancer is diagnosed in the advanced stage. In this case, patients require radical treatment, including breast removal surgery. The department offers excellent diagnostic options for patients with suspected breast cancer: high-resolution ultrasound scans, including color Doppler ultrasound and elastography, mammography, tomosynthesis, magnetic resonance imaging, needle biopsy and other tests. Thus, the doctors have in their arsenal all the necessary resources to detect breast cancer, as well as to accurately determine the stage of the oncological process. To treat breast cancer, the specialists of the medical facility resort to conservative and surgical methods. In most cases, it is impossible to cure the disease without surgery. The extent of the intervention is determined depending on the stage of breast cancer. In the advanced stages, mastectomy (total breast removal) is often required, but still the department's surgeons often manage to avoid radical surgery and save the breast. After mastectomy, the breasts can be restored with the help of plastic surgery. Whenever required, surgical treatment is supplemented with chemotherapy, radiation therapy, antibody therapy, antihormone therapy, immunotherapy, etc. In addition, every woman receives competent psychological assistance to normalize her psycho-emotional state caused by the onset of pathology.
Many patients of the department are diagnosed with benign breast diseases: cysts, fibroadenomas, lipomas, mastopathy, mastitis and others. To treat benign pathologies, conservative methods are usually sufficient, but in some clinical cases, minor surgical interventions may also be required. In addition, the department's doctors are competent in the treatment of gynecomastia (abnormal breast enlargement in men). The treatment of pathology usually involves the use of medicines, for example, medicines to reduce the production of prolactin, and if drug therapy is ineffective, surgery is performed.
The department's range of diagnostic and therapeutic options includes:
Diagnostic services

High-resolution ultrasound, including color Doppler and elastography
Mammography
Tomosynthesis
Magnetic resonance imaging
Needle biopsy under the guidance of ultrasound, MRI or mammography
"Second opinion"

Therapeutic services

Surgery

Organ-preserving breast cancer surgery
Mastectomy (breast removal) with immediate or delayed reconstruction using implants or autologous tissues
Preventive breast removal with immediate reconstruction with a family history of breast cancer
Breast plastic surgery for medical indications

Contouring plastic surgery
Breast reshaping
Breast reduction and augmentation
Nipple reconstruction

Treatment of breast cancer and gynecomastia in men
Surgery for benign breast tumors

Conservative therapy

Drug therapy
Systemic therapy

Chemotherapy
Antibody therapy (targeted therapy)
Antihormone therapy
Immunotherapy (if clinically indicated)

Radiation therapy

Classical and hypofractionated irradiation
Radiation therapy to irradiate metastases
Intraoperative radiation therapy (IORT)
Palliative radiation therapy

Other medical services
Curriculum vitae of Dr. med. Susanne Findt
Professional Career
01.09.2020 Head Physician in the Department of Mammology at the Marien Hospital Duesseldorf.
01.2015 - 08.2020 Head Physician in the Department of Gynecology and Mammology at the Evangelical Hospital Wesel.
10.2013 - 12.2014 Managing Senior Physician in the Department of Gynecology and Mammology at the Evangelical Hospital Wesel.
2003 - 2013 Senior Physician in the Department of Mammology and Level I Center for Perinatal Medicine at the Elisabeth Hospital Essen.
1997 - 2003 Assistant Physician in the Department of Mammology and Level I Center for Perinatal Medicine, after board certification – Senior Physician at the Marien Hospital Wesel.
1993 - 1997 Intern and Assistant Physician in the St. Johannes Hospital, Hagen, specialization in mammology and surgical treatment of breast pathologies.
Board Certification and Specialization
Board Certification in Gynecology and Obstetrics.
Specialization in Gynecologic Oncology.
Specialization in Breast Surgery.
University Education, Certificates and Qualifications
09.2021 Advanced training (over 60 months) in Gynecology and Obstetrics.
2020 Qualification in Medical Genetic Counseling.
2019 Certificate of the German Society of Ultrasound in Medicine (DEGUM) in the field of breast ultrasound scanning.
2018 Qualification in Oncology at the OnkoZert Cancer Center.
2014 Diploma in Colposcopy.
Since 2013 Research Fellow.
2012 Master's Certificate in Mammology of the European Academy of Senology (EAOS).
2012 Certificate in Minimally Invasive Surgery II.
2011 Specialist in Gynecologic Oncology.
2011 Senior Breast Surgeon, German Cancer Society, DKG.
2011 Working Group on Urogynecology and Plastic Reconstruction of the Pelvic Floor (AGUB).
Since 2003 Internships in surgical treatment of breast pathologies in Essen, Duisburg, Duesseldorf and Berlin.
2003 Internship in surgery under direction of Prof. Reisenauer, University of Tuebingen.
1998 Doctoral Degree at the Heinrich Heine University Duesseldorf.
1997 Board certification in Gynecology and Obstetrics.
1993 Admission to medical practice.
Study of Human Medicine at the Heinrich Heine University Duesseldorf.
Study of History and Sociology at the Heinrich Heine University Duesseldorf.
Lectures at advanced training courses for practicing physicians.
Photo of the doctor: (c) Marien Hospital Düsseldorf
Department of Mammology.
Marien Hospital Duesseldorf:

Request more information now.
We will be happy to answer all your questions.
---
Certificates