Municipal Hospital Karlsruhe
Department of Pediatric Allergology and Pulmonology (

570321

)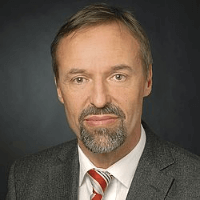 Prof. Dr. med.
Joachim Kühr
Specialized in: pediatric allergology, pulmonology
About the Department of Pediatric Allergology and Pulmonology at Municipal Hospital Karlsruhe
The Department of Pediatric Allergology and Pulmonology at the Municipal Hospital Karlsruhe offers the full range of diagnostics and treatment of allergic reactions, diseases of the lungs and the respiratory tract. Clinical activities are focused on the treatment of atopic dermatitis, food allergies, bronchial asthma, cystic fibrosis and severe respiratory tract infections. The specialists of the medical facility also have successful experience in the treatment of young patients with rare lung diseases. Particular attention is paid to the early diagnostics, counseling of parents and the selection of optimal treatment regimens. The department's therapeutic options include modern conservative therapy. The doctors make sure that the treatment is as comfortable as possible for the child, so the methods developed specifically for children are widely used here, for example, diagnostic tests based on computer games and the very latest imaging systems using ultrasound waves. Thanks to the specific interior design, children can feel as comfortable as possible and not be afraid during their treatment. The department is headed by Prof. Dr. med. Joachim Kühr.
The department's pediatric allergists admit young patients with allergic rhinitis, conjunctivitis, allergic bronchial asthma, atopic dermatitis, urticaria, food allergies, drug allergies, insect venom allergies and other allergic diseases. The diagnostics involves the use of prick tests, radioallergosorbent tests and provocation tests. Allergy management often requires a lifestyle modification in children to prevent their contact with the allergen. In many cases, doctors carry out hyposensitization (allergen-specific immunotherapy), the essence of which is to suppress the body's response to small doses of the allergen. To eliminate allergic manifestations on the child's skin, the department's specialists prescribe various ointments and creams. Pills may also be used.
The priority tasks of the department's doctors also include the diagnostics and treatment of diseases of the lungs and other respiratory organs. Particular attention is paid to the provision of medical care to children of various age groups with bronchial asthma, cystic fibrosis, recurrent severe respiratory infections, the consequences of lung and esophageal malformations, diaphragmatic hernias, etc. Pediatric pulmonologists successfully cope with breathing disorders caused by neuromuscular pathologies and rare lung diseases.
The medical facility has well-equipped diagnostic rooms with the ability to perform spirometry, body plethysmography, inhalation provocation tests, lung diffusing capacity measurement, sweat tests, immunological tests, chest X-ray and flexible bronchoscopy. The necessary complex of diagnostic procedures is determined according to the results of a clinical examination and complaints of a young patient. Most diagnostic examinations are performed on an outpatient basis.
The main treatment method for pulmonary diseases in children is drug therapy, which is often supplemented by inhalations, breathing exercises and therapeutic heating. The department's specialists also perform therapeutic flexible bronchoscopy, for example, to remove foreign bodies from the respiratory tract.
The department specializes in the diagnostics and treatment of the following pathologies in children of all age groups:
Allergology

Allergic rhinitis and conjunctivitis
Allergic bronchial asthma
Anaphylaxis
Neurodermatitis
Food allergies
Drug allergies
Insect venom allergies
Chronic urticaria
Egg white allergy (vaccination of children)

Pulmonology

Bronchial asthma
Cystic fibrosis (treatment in a certified center)
Complications in lung and esophageal malformations, as well as after diaphragmatic hernias
Recurrent severe respiratory infections
Respiratory disorders due to neuromuscular diseases
Rare lung diseases

Other diseases and pathological conditions
The department's range of medical services includes:
Allergology

Diagnostic options

Prick tests and radioallergosorbent tests
Specialized skin tests (in collaboration with the Department of Dermatology)
Provocation tests for food, insect venom and histamine allergies

Therapeutic options

Allergen-specific immunotherapy
Treatment with ointments, creams and pills

Pulmonology

Diagnostic options

Spirometry, body plethysmography, impulse oscillometry
Provocation pulmonary function tests
Lung diffusing capacity measurement
Exhaled NO measurement
Sweat tests
Immunological diagnostics
Flexible bronchoscopy
pH-metry and X-ray diagnostics in gastroesophageal reflux disease
Chest X-ray
Sleep screening (in cooperation with the Department of Otolaryngology)
Measurement of O2 and CO2 content in the exhaled air (at night)

Therapeutic options

Drug therapy
Inhalations
Breathing exercises
Therapeutic heating
Therapeutic flexible bronchoscopy (for example, to remove foreign bodies from the airways)
Home ventilation

Other medical services
Photo of the doctor: (c) Städtische Klinikum Karlsruhe
Department of Pediatric Allergology and Pulmonology.
Municipal Hospital Karlsruhe:

Request more information now.
We will be happy to answer all your questions.
---
Certificates