Academic Municipal Hospital Karlsruhe
Department of Pediatric Allergology and Pulmonology (

570321

)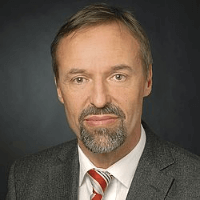 Prof. Dr. med.
Joachim Kühr
Specialized in: pediatric allergology, pulmonology
About the department
The Department of Pediatric Allergology and Pulmonology at the Academic Municipal Hospital Karlsruhe offers the full range of diagnostics and treatment of various allergic reactions and respiratory diseases. The clinical activities mainly focus on the treatment of atopic dermatitis, food allergies, bronchial asthma, cystic fibrosis, severe types of respiratory tract infections, etc. The department is headed by Prof. Dr. med. Joachim Kühr.
The department has both classical and the very latest therapeutic methods, which allows the doctors to effectively eliminate even extremely complex pathologies. The priority is given to the early diagnostics, comprehensive parent counseling and selection of the optimal treatment strategy. For example, the hyposensibilization is used for the treatment of various types of allergy, which allows to reduce the sensitivity to the allergen and prevent the development of complications. The department diagnoses allergic reactions using provocative tests with reliable reagents. It should be noted that the department's specialists provide special classes (outpatiently) for young children, schoolchildren, teenagers and their parents, during which they train them how to lead a proper life with bronchial asthma.
Any type of therapy is based on the methods developed specifically for children in order to make the treatment of young patients as easy and pleasant as possible. Such methods include diagnostic tests based on computer games, the very latest imaging systems using ultrasound waves, cutting-edge equipment, and specific interior design where children can feel as comfortable as possible during the treatment and not be afraid.
The department specializes in the treatment of the following pathologies in children of all age groups:
Allergology

Allergic rhinitis and conjunctivitis
Allergic asthma
Anaphylaxis
Neurodermatitis
Food allergies
Drug allergies
Insect venom allergies
Chronic hives
Egg allergy (vaccination of children)

Pulmonology

Bronchial asthma
Mucoviscidosis/cystic fibrosis (treatment within the certified center)
Complications in malformations of the lung/esophagus and diaphragmatic hernia
Recurrent severe respiratory infections
Respiratory disorders in neuromuscular diseases
Rare lung diseases

Other diseases and pathological conditions
The diagnostic options of the department include:
Allergology

Prick tests and radioallergosorbent test
Specialized skin tests (in collaboration with the Department of Dermatology)
Provocative tests in allergies to food, animal venom and histamine

Pulmonology

Spirometry/body plethysmography/pulse oscillometry
Pulmonary provocation tests
Measurement of pulmonary diffusing capacity (in collaboration with the Department of Internal Medicine)
Exhaled nitric oxide test
Sweat test
Immunological diagnostics
Flexible bronchoscopy for the diagnostics and therapy (for example, if foreign bodies get into the respiratory tract)
pH-metry and X-ray diagnostics in reflux disease
Sleep screening (in collaboration with the Department of Otolaryngology)
O2 and CO2 measurement (at night)
Pulmonary ventilation at home

Other diagnostic services
Photo of the doctor: (с) Städtisches Klinikum Karlsruhe
Department of Pediatric Allergology and Pulmonology.
Academic Municipal Hospital Karlsruhe:

Request more information now.
We will be happy to answer all your questions.
---
Certificates