Academic Municipal Hospital Karlsruhe
Department of Pediatric Cardiology (

570327

)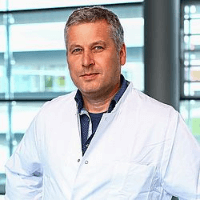 Dr. med.
Oliver Egen
Specialized in: pediatric cardiology
About the department
The Department of Pediatric Cardiology at the Academic Municipal Hospital Karlsruhe offers the full range of diagnostics and treatment of congenital and acquired diseases of the cardiovascular system in premature babies, newborns, young children and adolescents. In addition to the treatment of congenital heart abnormalities, the department treats heart rhythm disorders, heart muscle diseases and hypertension. Thanks to the availability of ultra-modern technological equipment, the department's cardiologists have the opportunity to carry out the most accurate diagnostics of the smallest anomalies in the development of the cardiovascular system and ensure their timely treatment. The department is headed by Dr. med. Oliver Egen.
The invasive diagnostics (cardiac catheterization) or surgical, interventional treatment is carried out in collaboration with the specialized departments of the University Hospitals of Freiburg, Heidelberg and other pediatric medical facilities. The therapy of cardiac rhythm disorders (arrhythmias) is carried out cooperatively with the specialists from the Department of Cardiology. For example, such children may undergo the electrophysiological examination or ablative therapy using heart catheterization (in children and adolescents weighing more than 30 kg).
The most common heart defects, the diagnostics and treatment of which are carried out in the department, include the Tetralogy of Fallot, atrial septal defects, pulmonary artery stenosis, coarctation of the aorta, isolated stenosis and valve failure, open arterial duct, combined mitral malformations and many others. The department is one of the best medical facilities of this kind in the region and it regularly provides the successful treatment of young patients.
The diagnostic and therapeutic range of the department includes:
Doppler echocardiography
Color Doppler echocardiography
Electrocardiogram (ECG)
24-hour Holter monitoring
Use of event recorder for the detection of the functional parameters of the cardiovascular system
Stress ECG
Pulse oximetry
Long-term blood pressure measurement
Radiography
Magnetic resonance imaging, including MRI angiography
CT angiography
Invasive diagnostics (cardiac catheterization)
Surgical or catheter therapy
Electrophysiological examinations for the diagnostics of arrhythmias
Ablation therapy in arrhythmias
Drug therapy
Other methods of cardiac diagnostics and therapy
Photo of the doctor: (с) Städtisches Klinikum Karlsruhe
Department of Pediatric Cardiology.
Academic Municipal Hospital Karlsruhe:

Request more information now.
We will be happy to answer all your questions.
---
Certificates