Academic Municipal Hospital Karlsruhe
Department of Pediatric Oncology and Hematology (

570330

)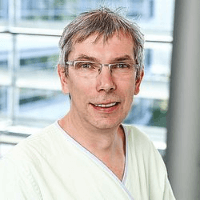 Dr. med.
Alfred Leipold
Specialized in: pediatric oncology, hematology
About the department
The Department of Pediatric Oncology and Hematology at the Academic Municipal Hospital Karlsruhe offers the full range of services in these fields. The department specializes in high-precision diagnostics and optimal treatment of oncopathologies and diseases of the hematopoietic system. The department has been operating since 1970, therefore, it has vast experience and unique achievementsб which allow it to effectively deal with cancer in children of different age groups (under 18 years old). The department is one of the most successful and large medical facilities of this kind in Germany. Also, the tasks of the department's doctors include the therapy of benign congenital and acquired hematological diseases (thalassemia, Fanconi anemia, etc.). The Chief Physician of the department is Dr. med. Alfred Leipold.
In the field of oncology, the patients are provided with the treatment of all malignant pathologies, which are included in the classification of the Society of Pediatric Oncology and Hematology. The therapy is based on an interdisciplinary approach. Not only oncologists, hematologists and specially trained nursing staff, but also social workers, psychologists, physiotherapists, art therapists, music therapists, and teachers take care of the patient. Once a week, the department holds a clown show, which contributes to the positive attitude of children towards the treatment.
The department offers all classical methods of cancer treatment, for example, chemotherapy, immunotherapy, radiation therapy. The spectrum is also complemented by naturopathic methods aimed at maintaining the proper health of young patients and improving their quality of life.
The department specializes in the diagnostics and treatment of the following diseases:
Leukemia
Hodgkin's lymphoma
Non-Hodgkin's lymphoma
Neuroblastoma
Retinoblastoma
Sarcoma

Ewing's sarcoma
Osteosarcoma
Soft tissue sarcoma

Medulloblastoma
Astrocytoma
Ependymoma
Kidney cancer in children
Laryngeal cancer
Liver tumors in children
Nephroma
Tumors of the ovaries and testicles in children
Rare malignant tumors
Thyroid cancer
Benign blood disorders

Fanconi anemia
Aplastic anemia
Thalassemia
Hemoglobinopathies
Polycythemia
Acquired aplastic anemia
Idiopathic thrombocytopenic purpura
Amegakaryocytic thrombocytopenia
Hereditary and acquired anemias

Other malignant and benign diseases
Diagnostic and therapeutic range of the department:
Diagnostics

Blood count
Urine test
X-ray examinations
Ultrasound examinations
Computed tomography
Magnetic resonance imaging
Radioisotope scan
Examination of the cellular composition of the bone marrow
Lumbar puncture
Biopsy

Therapy

Surgical removal of the tumor
Radiation therapy
Chemotherapy, drug therapy
Immunotherapy
Bone marrow transplantation

Other methods of diagnostics and treatment
Photo of the doctor: (с) Städtisches Klinikum Karlsruhe
Department of Pediatric Oncology and Hematology.
Academic Municipal Hospital Karlsruhe:

Request more information now.
We will be happy to answer all your questions.
---
Certificates