Academic Municipal Hospital Karlsruhe
Department of Pediatric Neurology and Epileptology (

570333

)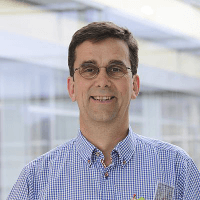 Dr. med.
Peter Krieg
Specialized in: pediatric neurology, epileptology
About the department
The Department of Pediatric Neurology and Epileptology at the Academic Municipal Hospital Karlsruhe specializes in the diagnostics and treatment of congenital and acquired diseases of the nervous system. A special focus of the department is the treatment of epilepsy (certification of the German Society of Epileptology). Depending on the severity of the disease and its course, an inpatient and outpatient medical services are offered, for example, the diagnostics and treatment of all acute neuropediatric diseases are carried out only on an inpatient basis. The young patients receive medical care only from the highly qualified experts, who provide optimal solutions even in the extremely difficult clinical cases. The department is headed by Dr. med. Peter Krieg.
The excellent equipment of the department, modern infrastructure and the availability of effective treatments, reliable medicines create the optimal conditions for the provision of first-class medical services for the diagnostics, treatment and follow-up care of young patients with the diseases of the nervous system. In addition to standard examination protocols, including the laboratory tests, brain imaging, encephalography and myography, the department actively uses innovative genetic testing and unique neuropsychological diagnostic programs. The procedures of this kind allow the doctor to receive a comprehensive information about the condition of the child, identify the cause of the pathology and select the most effective treatment regimen. It should be also noted that the treatment of neurological diseases in children requires a special approach, therefore, the treatment process often involves specialists from the related disciplines.
Special attention is paid to the neurological rehabilitation. In order to achieve a stable positive dynamics in the recovery of young patients both in infancy and adolescence, there are created detailed rehabilitation programs, which can be adjusted depending on the treatment response. The neuropediatric rehabilitation procedures are performed by the experienced specialists using modern equipment. The use of new technologies allows the doctors to improve the general condition of the child, to restore the lost functions, to promote the integration into school and everyday life.
The department specializes in the diagnostics and treatment of the following neuropediatric diseases:
Diseases of the brain and spinal cord

Epilepsy
Malformations
Neurodegenerative diseases
Neurometabolic diseases
Vascular pathologies of the brain and spinal cord

Tumors of the central and peripheral nervous system
Neuromuscular diseases
All types of motor disorders
Developmental disorders due to the premature birth, hypoxia, accidents, brain damage in newborns, genetic diseases and metabolic disorders
Other diseases and pathological conditions
Photo of the doctor: (с) Städtisches Klinikum Karlsruhe
Department of Pediatric Neurology and Epileptology.
Academic Municipal Hospital Karlsruhe:

Request more information now.
We will be happy to answer all your questions.
---
Certificates