Academic Municipal Hospital Karlsruhe
Department of Adult and Pediatric Traumatology, Hand and Orthopedic Surgery (

579672

)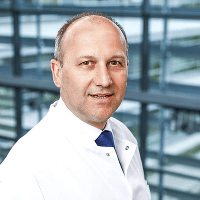 Prof. Dr. med.
Christof Müller
Specialized in: adult and pediatric traumatology, hand and orthopedic surgery
About the department
The Department of Adult and Pediatric Traumatology, Hand and Orthopedic Surgery at the Academic Municipal Hospital Karlsruhe offers the full range of services in these medical fields. Specialization covers the conservative and surgical treatment of injuries and degenerative changes of the extremities, joints, pelvis and spine. The surgical interventions are performed using both classic open, and minimally invasive, endoscopic method. The department performs more than 6,000 surgical procedures every year. It has 90 beds and treats about 3,000 inpatients and 20,000 outpatients annually. The department is headed by Prof. Dr. med. Christof Müller.
The department enjoys a reputation as the leading supraregional Trauma Center of North Baden, and therefore has a unique experience and high qualifications in the treatment of patients with severe and multiple injuries. The central Emergency Unit ensures multidisciplinary and competent care for patients with mild and severe injuries. The department also includes a Physiotherapy Unit, which specialists carry out physiotherapy procedures immediately after operations, as well as on an outpatient basis.
The department's clinical priority is shoulder, elbow, wrist, hip, knee and ankle arthroscopic surgery. Particular attention is paid to joint replacement surgery, which uses the very latest and proven surgical implantation techniques, as well as high-quality prostheses of famous world manufacturers. Computer navigation allows for performing operations with the best possible accuracy, while minimally invasive techniques provide sparing surgery and quick rehabilitation. In addition to the total joint replacement by the method of installing artificial prostheses, the surgeons of the department also perform technically sophisticated revision interventions, which are sometimes required during long-term service of the implanted endoprosthesis. The department offers the widest range of diagnostic and therapeutic options to relieve younger patients and patients suffering from sports injuries from premature joint replacement.
Furthermore, the department carries out all types of microfracturing and autologous chondrocyte transplantation using special matrices. The specialists have more than 10 years of experience in spinal surgery (in degenerative changes or as a result of accidents), whereas in most cases an especially sparing thoracoscopic technique is used (if indicated). The spectrum ranges from spinal fusion to prosthetic intervertebral discs in young patients.
The main goal of the entire medical team of the department is to provide each patient with highly competent medical care, personal attention, care and the most comfortable conditions of stay.
The main clinical focuses of the department include:
Joint replacement surgery and arthroscopic interventions on the shoulder, elbow, wrist, hip, knee and ankle joints
Joint reconstructive interventions
Joint revision surgery
Corrective operations and subsequent interventions after accidents and injuries
Spinal surgery (for example, spinal fusion, intervertebral disc prosthetics)
Shoulder surgery (for example, in impingement syndrome, forearm calcification)
Knee surgery (for example, autologous chondrocyte transplantation using special matrices)
Hand surgery
Foot surgery
Other medical services
Photo of the doctor: (с) Städtisches Klinikum Karlsruhe
Department of Adult and Pediatric Traumatology, Hand and Orthopedic Surgery.
Academic Municipal Hospital Karlsruhe:

Request more information now.
We will be happy to answer all your questions.
---
Certificates