Municipal Hospital Karlsruhe
Department of Pediatric Surgery (

590806

)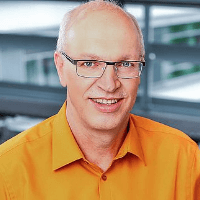 Prof. Dr. med.
Peter Schmittenbecher
Specialized in: pediatric surgery
About the Department of Pediatric Surgery at Municipal Hospital Karlsruhe
The Department of Pediatric Surgery at the Municipal Hospital Karlsruhe offers the full range of services for the surgical treatment of various diseases in children. The department's medical team admits young patients of all age groups, ranging from the very first days of life to adolescence. The department provides both inpatient and outpatient medical care. In addition, in urgent clinical cases, children receive surgical care in an emergency care unit. The operating rooms of the medical facility are equipped with the very latest technology, which guarantees both high efficiency and safety of the surgical treatment. There are also excellent diagnostic options for a comprehensive examination of children prior to surgery and for monitoring their condition after the surgical intervention. Special attention deserves the professionalism of the department's surgeons, who have deep knowledge in pediatric anatomy and constantly improve their skills by mastering innovative low-traumatic surgical techniques. The quality of medical services provided by the medical facility is awarded with the prestigious German Ausgezeichnet. FÜR KINDER certificate of the German Society specializing in children's hospitals monitoring. The department is headed by Prof. Dr. med. Peter Schmittenbecher.
The ​​priority tasks of the department's doctors include surgical treatment of abdominal diseases, respiratory system disorders, musculoskeletal injuries and diseases, and urologic pathologies. The range is also supplemented by neurosurgical interventions, plastic surgery and surgical removal of benign and malignant neoplasms in children. To achieve optimal treatment results, doctors widely use innovative surgical techniques, such as minimally invasive interventions, endoscopic procedures, and laser therapy.
A Surgical Emergency Unit annually provides its medical services to about 15,000 patients, including 2,000 cases of injuries while in kindergarten or school. The department annually admits more than 2,500 inpatients, and about 12,000 patients receive outpatient medical care. The department's pediatric surgeons perform more than 2,500 surgical interventions annually.
The gold standard of surgical treatment in the department is minimally invasive interventions. Surgeons use special miniature instruments for such operations, with the help of which they perform several small punctures 0,5-1,5 cm in size. The main advantage of such surgical interventions is that the child does not experience any pain after the operation, recovers quickly, and these interventions leave almost no scars. The surgeons of the medical facility specialize in performing laparoscopic interventions for appendicitis, reflux esophagitis, varicocele in boys, ovarian cysts and tumors in girls, renal pelvis outflow stenosis, intestinal intussusception, spontaneous pneumothorax and other pathologies.
Of particular interest to the team of the department's pediatric surgeons is the surgical repair of congenital malformations and diseases in newborns. The most common diagnoses in this area include atresia of the esophagus, rectum, small and large intestine, anorectal malformations, diaphragmatic defects, pulmonary malformations, and bile duct malformations. In most cases, pathology is detected even in the womb, after which a consultation is held for future parents and further therapeutic measures are planned. There are also cases when a congenital defect is diagnosed in the very first days of a child's life and the department's specialists immediately repair it.
An equally important area of ​​work for pediatric surgeons is the treatment of congenital and acquired diseases of the kidneys, bladder, ureters, urethra, and reproductive organs in boys. The most common diseases in clinical practice are duplex kidney, renal pelvis outflow stenosis, ureteral stenosis, urethral valves, vesicoureteral reflux, urinary tract infections, bladder emptying disorders, enuresis, and others. In some cases, the department's doctors manage to avoid surgery and eliminate the pathology with the help of drug therapy with antibiotics and other medicines. Boys are often diagnosed with varicocele, hypospadias, undescended testicles and other anomalies in the development of the reproductive organs, which require their urgent repair. Boys with injuries of the reproductive organs and urgent urologic conditions (such as testicular torsion) receive emergency medical care.
The department also successfully performs neurosurgical interventions. A large number of neurosurgical operations are performed to treat hydrocephalus, a pathological condition in which excess cerebrospinal fluid accumulates in the ventricles of the brain. Pediatric surgeons also successfully perform operations to treat spina bifida and cleft skull, which are diagnosed before childbirth. Surgery is performed after the baby is born, after which the child will be under long-term medical supervision.
The department's surgical options are complemented by the repair of pectus excavatum and pectus carinatum. Pectus excavatum is the most common thoracic malformation in children. To repair this anomaly, both conservative and surgical techniques can be used, depending on the severity of the pathology, which is determined using the Haller index. The main method of surgical treatment is the minimally invasive Nuss procedure. The intervention is performed using thoracoscopic techniques, and its duration does not exceed one hour. After the operation, the child usually stays in the Intensive Care Unit for a day, after which he is transferred to a regular ward, where pain management and breathing exercises are performed. A young patient leaves the hospital after 5-10 days. In the case of pectus carinatum, conservative treatment or surgical intervention is also possible. Surgical options include both classical open interventions and minimally invasive surgery, with the latter sparing option always being preferred if the clinical situation allows such an operation to be performed effectively.
The department's range of surgical services includes:
Treatment of general surgical diseases in children

Neonatal surgery

Repair of esophageal atresia (obstruction)
Repair of small and large bowel atresia, as well as rectal atresia
Repair of diaphragmatic malformations
Repair of pulmonary malformations
Repair of bile duct malformations
Repair of congenital anorectal malformations

Surgical treatment of inguinal hernias
Surgical treatment of umbilical hernias
Surgical removal of the appendix
Removal of bile duct stones
Repair of intestinal obstruction
Resection of abdominal and chest tumors, including tumors of the liver, spleen and pancreas
Resection of pathological skin changes (for example, hemangiomas and nevi)

Minimally invasive interventions in children

Appendectomy
Treatment of gastrointestinal reflux disease
Search for a testicle in cryptorchidism
Varicocele repair
Treatment of ovarian cysts or tumors
Dilatation of renal pelvis outflow stenosis
Repair of intestinal intussusceptions
Treatment of spontaneous pneumothorax
Treatment of lung empyema
Resection of lung metastases due to cancer of another localization (rarely)

Surgical treatment of congenital and acquired diseases and malformations of the skeleton, muscles and tendons

Surgery for foot malformations (for example, clubfoot, heel spur and toe deformities)
Surgery for hand malformations (for example, syndactyly)
Surgery for hip malformations (for example, Perthes disease and slipped capital femoral epiphysis)
Surgery for spinal deformities (scoliosis and kyphosis)
Surgery for axial deformities of the legs
Surgery for leg length discrepancy
Surgery for benign and malignant musculoskeletal neoplasms

Surgery for congenital and acquired diseases of the kidneys, bladder, ureters, urethra and reproductive organs in boys

Surgery for urinary disorders (for example, enuresis)
Surgery for duplex kidney
Surgery for renal pelvis outflow stenosis
Surgery for urethral valves
Surgery for vesicoureteral reflux
Surgery for congenital malformations (hypospadias, undescended testicles and testicular torsion)

Surgical treatment of injuries of any severity in children
Surgical treatment of diseases of the nervous system in children

Surgery for hydrocephalus
Surgery for spina bifida
Surgery for cleft skull
Surgery for skull fractures
Surgery for cerebral hemorrhage

Surgical repair of chest deformities

Surgery for pectus carinatum
Surgery for pectus excavatum

Surgical treatment of vascular malformations with a focus on the removal of hemangiomas
Other surgical options
Curriculum vitae of Prof. Dr. med. Peter Schmittenbecher
Professional Career
Since 06.2007 Head Physician of the Department of Pediatric Surgery at the Municipal Hospital Karlsruhe.
10.1997 - 04.2007 Managing Senior Physician, Acting Head of the Department of Pediatric Surgery at the St. Hedwig Hospital Brothers of Mercy, Regensburg.
05.1985 - 09.1997 Advanced Training Assistant, Department of Pediatric Surgery and Department of Surgery at the University Hospital of Ludwig Maximilian University of Munich.
Doctoral Thesis
1987 Doctoral thesis defense. Subject: "An experimental study of the short bowel syndrome".
Habilitation
2008 "VIP receptors in a case of the impaired nervous regulation of the gastrointestinal function".
Research Focuses
Memberships in Professional Societies
German Society of Surgery (DGCH).
German Society of Pediatric Surgery (DGKCH).
German Trauma Society (DGU).
Memberships in Committees and Commissions
Commission on the Development of Guidelines of the German Society of Pediatric Surgery.
Standing Commission on Advanced Training in Surgical Specialties.
Photo of the doctor: (c) Städtische Klinikum Karlsruhe
Department of Pediatric Surgery.
Municipal Hospital Karlsruhe:

Request more information now.
We will be happy to answer all your questions.
---
Certificates