Academic Municipal Hospital Karlsruhe
Department of Oncology, Hematology, Infectology and Palliative Care (

590814

)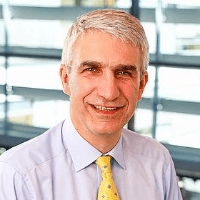 Prof. Dr. med.
Martin Bentz
Specialized in: oncology, hematology, infectology, palliative care
About the department
The Department of Oncology, Hematology, Infectology and Palliative Care at the Academic Municipal Hospital Karlsruhe offers the full range of modern medical services for patients with blood diseases, cancers and infectious pathologies. Of particular interest is the treatment of leukemias, lymphomas, drug therapy of malignancies, as well as palliative care to improve the quality of life of patients at the terminal stages of cancer. The treatment is provided in rooms with ultramodern infrastructure. All therapeutic interventions meet the standardized protocols of professional societies.
The department is headed by Prof. Dr. med. Martin Bentz. According to the Focus magazine, the Professor ranks among the top German specialists for the treatment of leukemias, lymphomas and metastatic lesions!
In total, the department has 75 beds for inpatient treatment. In addition, the department includes the Section for High-Dose Chemotherapy with Autologous and Allogeneic Stem Cell Transplantation, the Intensive Care Unit, the Ultrasound Diagnostic Section and a large Hematology Laboratory, the Palliative Care Unit. In December 2014, the Day Care Center (TagesTherapieZentrum) was opened for outpatient medical care. It offers the excellent conditions for chemotherapy and infusion therapy.
The department is part of the Cancer Center Karlsruhe, which combines together the highly qualified specialists from all disciplines in order to provide optimal medical services to patients with cancers. This center undergoes regular independent quality checks and is certified by the German Society of Hematology and Medical Oncology. The center holds interdisciplinary tumor boards, during which each clinical case is discussed in detail, after which the most effective treatment tactics are developed. The Cancer Center Karlsruhe participates in national and international clinical trials of innovative treatment techniques, which allows the doctors to quickly implement them into clinical practice.
In the field of infectology, the department offers the diagnostics and treatment of all infectious diseases, including tropical ones. The department has unique achievements in the treatment of patients with HIV and AIDS.
The main clinical focuses of the department include:
Diagnostics and treatment of blood diseases (for example, leukemias, lymphomas, multiple myeloma)

High-dose chemotherapy with autologous and allogeneic stem cell transplantation

Diagnostics and treatment of cancer of the internal organs (for example, colon cancer, lung cancer)
Palliative care for patients at the terminal stages of cancer
Diagnostics and treatment of infectious diseases

Tuberculosis
Meningitis
Hepatitis
Tropical infections
HIV and AIDS

Other diagnostic and therapeutic options
Photo of the doctor: (с) Städtisches Klinikum Karlsruhe
Department of Oncology, Hematology, Infectology and Palliative Care.
Academic Municipal Hospital Karlsruhe:

Request more information now.
We will be happy to answer all your questions.
---
Certificates